185/365
Here it is again, the end of the month, and so much to do, especially since it is also the end of the quarter. Let's dive in…
Grocery Store Rewards
I had some Safeway Rewards that were expiring. I don't like to use rewards on gas unless I have 10 at once for $1.00 off a full tank of gas. I love that they introduced "Grocery Rewards" so that I don't always have to scramble each month to "use them or lose them," and instead have some choices. Since our tank holds 17 gallons, and each reward is worth 10¢ per gallon discount on gas, I value each reward at $1.70. I try to pick grocery rewards that will get at least close to that value if I don't have enough to get a full $1.00 per gallon of gas. I picked some good ones for the four that were expiring this month. I chose a coupon for free sparkling water that I knew was over $5.00 per case, and $3.00 worth of free produce. Both of these "cost" two rewards, so while I got a great deal on the soda, it offset the 40¢ I lost on the produce coupon.
Expiring Offers and Coupons
The end of the month seems to be the ideal date for coupons and other deals to expire. Time to clean out the coupon book and check for other deals that might be expiring. I finally figured out how to get around the Chase Pay/Starbucks snafu from the last time I had a Chase Offer. I don't go to Starbucks, but had a couple of coupons for 10% off on my Chase Offers. I couldn't figure out how to trick Bryan's Starbucks app to take my Chase Pay, so I just logged him off of Starbucks on his smartphone and logged in as mine. This worked perfectly, so now he can use the money from my Starbucks card for his purchases at 10% off.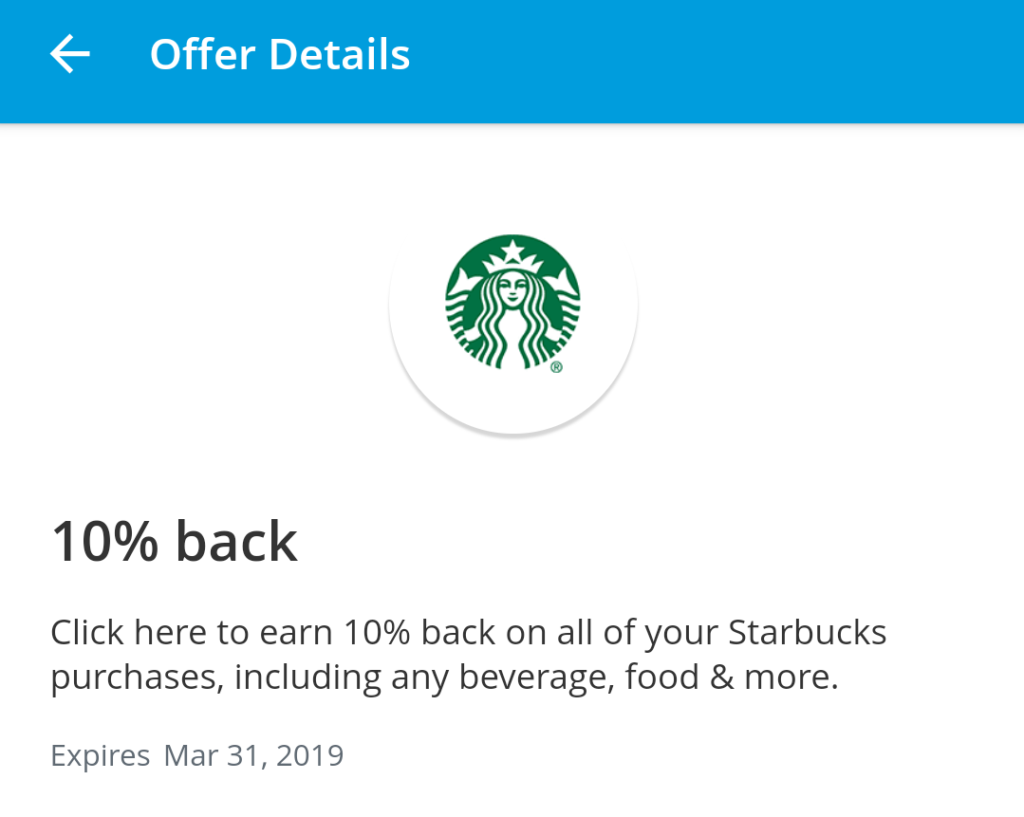 Each month, I try to earn enough Swagbucks for at least one $25 Virtual Visa at a discount of 13% or 2175 SB. I have been very busy with other things this month so I haven't been concentrating on Swagbucks, but I did have a healthy stash of SB in order to make this redemption before time ran out. It was my birthday month, so it was a good thing I waited so that I could also get a 55 SB Swag Up on the transaction.
Disney Movie Rewards Challenges
I realized yesterday that I had fallen behind on the Disney Movie Rewards Challenges this month. I had one to play from the third Monday and even the Marvel one from way back at the beginning of the month. 10 more points added to my account!
While the month is closing out, so is the quarter, and time to close out Chase Freedom's rotating categories of Gas Stations, Tolls, and Drug Stores. We didn't get much use out of this month's 5x bonus since we don't use any of those categories very often. My husband works from home, and my commute each day is only about 15 minutes there and back. Usually, I will spend up to the $1500 max on each of our cards, but we had a lot of other expenses this quarter, so I don't want all of our cash tied up in gift cards right now. Plus, we tend to get our gas at Costco and Safeway these days, and neither of these would allow a spend up in gift cards. The small convenience store at the Safeway fuel station codes as grocery instead of gas station. I tried it the other day on a pack of gum.
Do you have any tasks to add to my end of the month to do list?