348/365 The links contained in this article may be affiliates. If you use them, I may earn a bonus, and you can, too. Win-win!
Rakuten (the e-commerce marketplace) is celebrating their birthday with 15% back in points. They also want to help you celebrate your birthday, too.
First Up, What Is Rakuten?
Rakuten is an e-commerce marketplace much like Amazon. It consolidates merchants into one shopping experience, although you will have to check out of each store if you buy from multiple in one shopping trip. More on that in a minute. You might be a bit confused because Rakuten owns Ebates and recently changed its name to Rakuten. Not sure why they did that when they are two different entities, and Ebates is a more descriptive name for a shopping portal. I digress…
Shop at Different "Stores"
The stores on Rakuten all seem like they might be brick and mortars that contract with Rakuten in order to streamline or expand their online market. This is why you have to check out individually. For this reason, it might be in your best interest to order from separate stores in separate transactions, and even on separate days.
Rakuten Super Points
Here's why. Rakuten rewards you for shopping on their site with 1% or better cash back in the form of Super Points. Right now, they are paying 15% back in points. You can use these points to reduce your total on your next transaction. For this reason, and since you have to check out separately at each store, you may as well make your highest purchase first, wait for the points to post, and then use those points on your next purchase, and so on, ad infinitum.
Use a Shopping Portal
Now, this is weird just typing this, but Rakuten may not be the best portal for shopping at Rakuten. I know, right? Check with Cashback Monitor first, because mine says that Giving Assistant is paying 3% at Rakuten, while Rakuten is only paying 1%. I just made a purchase and clicked on my Giving Assistant button before putting my item in the cart, but while the click was recorded, it hasn't logged the purchase. However, Rakuten (the portal) already informed me that I earned cash back. One generally cancels the other out, although in the past, I have been paid by two portals for the same transaction accidentally.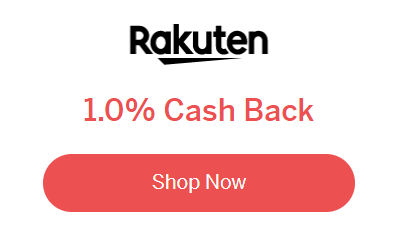 Check Out Rakuten
So check it out. For my purchase, Amazon had the exact same item for the exact same price. I can get 5x on my purchase for using my Amazon gift card balance from purchasing at office supply stores with my Chase Ink Plus (which isn't available anymore, but you could get 5x at office supply stores by getting the Chase Ink Business Preferred, and then downgrading to the Chase Ink Business Cash). However 15% back in points to use on my next purchase is pretty compelling.

P.S.-Enter Your Birthday
If you enter your birthday here, Rakuten promises $5 in points. I tried this yesterday before my transaction in order to get another $5 off, but I have yet to see the points show up in my account. I put in a ticket, but you can see if you get better results. Let me know in the comments below!