363/365
In July, 2020, NASA will be sending another rover to Mars. You can get your name sent along with that rover. How cool is that?!
Submit Your Name
First, submit your name by clicking here. It will actually be written (along with the other nine million or so names) on a microchip that will be attached to the rover and go to Mars on the next mission set to launch in July 2020. You only have a few days, as they are cutting off the list on September 30, 2019 at 11:59pm.
Print Your Boarding Pass
I think the most fun thing about this promotion is that you can print a boarding pass with your name on it. It looks very cool and authentic. If you don't have a printer handy when you go to the web site, you can access it later by logging in with your email.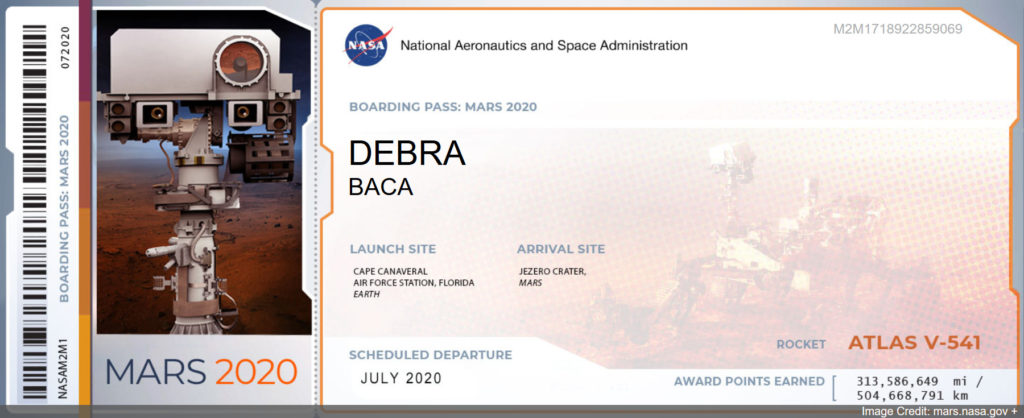 Check Your Frequent Flier Miles
I love that they printed your frequent flyer miles on the boarding pass! Imagine if those were worth something, right?! If you signed up for the two prior missions, you would have even more!
Collect Mission Badges
You can sign in to check your "account" any time and start collecting mission badges for every one you add your name to. I wish we had started during the Orion Mission, because that would be really great to have all three. We'll have to be on the lookout for when Exploration Mission-1, now called Artemis-1, will be collecting names for their mission set to launch sometime in 2020.
Space Exploration
Our family has a deep interest in space exploration. My husband is the one who drives it, watching every launch live, especially the work that SpaceX is doing. Maggie is thinking of becoming a rocket scientist or at least working for NASA in some capacity. We visited the Space Center in Houston a couple of years ago, and you can imagine the enthusiasm we had for learning all about space exploration during that visit. I love that NASA is trying to get everyone involved and interested in going beyond our planet by doing promotions like this one.