153/365
In yesterday's post, we finished up our stay at Universal Orlando, but I had a small surprise for the kids: We're going to Disney! We stayed our last night at Pop Century to explore the Walt Disney Resort and have a character breakfast at BoardWalk Inn. You can read Part 1 about our budget and planning here, Day 1 here, Day 2 here, and Day 3 here.
Pop Century Resort
I was really impressed with the renovation that recently updated the rooms. It reminds me of the new Motel 6 rooms, but without the hit-or-miss quality of Motel 6. The second bed is also cleverly a table, and there are little nooks and crannies for storing things all over the room, especially near the bathroom. Another great feature is the barn door between the room and the bathroom. I was able to start getting ready in the morning without waking the kids from turning on the light.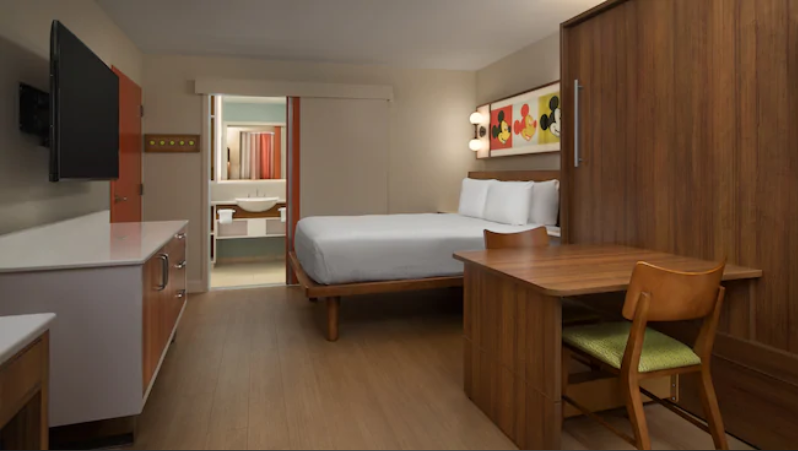 Packing One More Time
I had to get up early to start packing once more, this time for our trip home. At Disney, it's a bit different, though, because each resort has an airline desk that allows you to check your luggage for your flight, not having to mess with them again until baggage claim at home. This is super convenient, but we ended up having to stand in two lines in the morning, one for the checked luggage and another for bell services to stow our carry on bags while we toured the Resort.
Lyft to the Rescue
We started running out of time between packing, cranky and tired kids, and then having to wait in the two lines for our bags. Our breakfast reservation was for 10:05am, and it was almost 9:45am. I decided to call a Lyft because I knew that the Disney transportation system is not entirely reliable, and it would take extra time since we were going from a resort to a resort, which requires a transfer since there are no direct buses.
Minnie Van Service
Lyft operates the new Minnie Van Service within the Walt Disney World Resort with cute vans adorned with Minnie's signature dots. I saw this service pop up on my phone, and while it would have been fun to book it, I've heard that it can be around $25, whereas our short ride was only around $8. So you have a choice. One article I read states that Minnie Vans are the only vehicles that can drop off and pick up at Magic Kingdom, so it might only be necessary if you are going to or from the Magic Kingdom.
Character Breakfast
When I was considering which character dining or experience to choose for this morning, I came across the Bon Voyage Adventure Breakfast at the BoardWalk Inn featuring the lead characters from Tangled and the Little Mermaid. The kids love both of these movies, and the male characters are included, so I thought it would be a good fit for us. The others I considered were Cape May Cafe at Beach Club and 1900 Park Fare at the Grand Floridian. Maggie had a bad experience at the latter when we were there three years ago, and the former seemed fun, but I thought the kids would like the Bon Voyage characters more since we just saw Fab Five characters at Storytellers Cafe at Disneyland in September.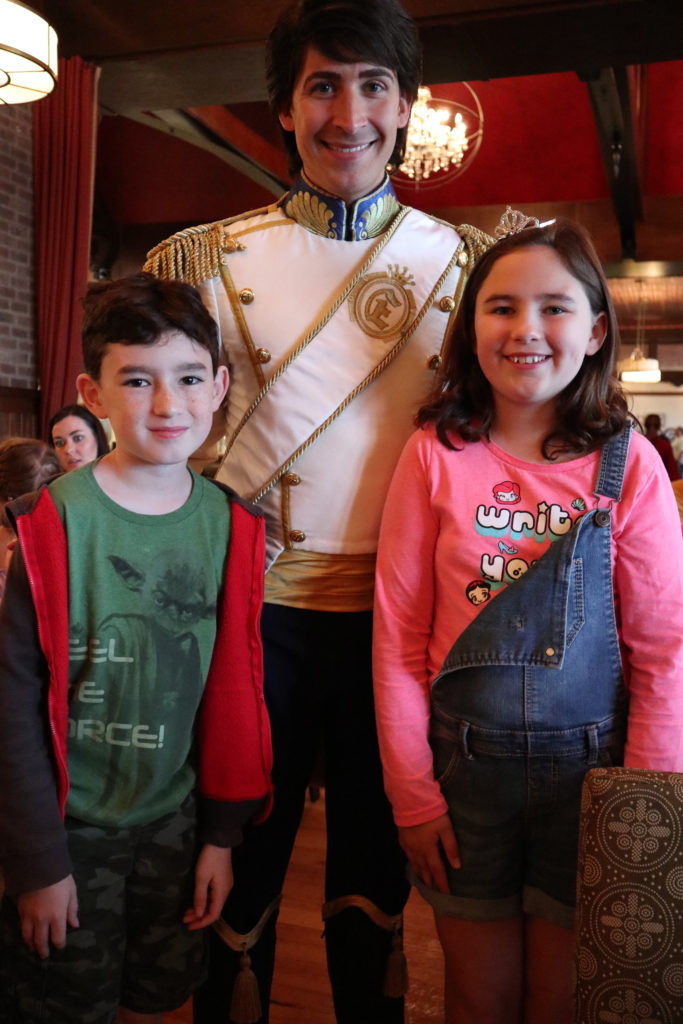 BoardWalk Inn
As we walked into the BoardWalk Inn, the kids and I had a WOW moment. It is gorgeous inside. I have a feeling that all of the BoardWalk Area resorts are like this, as we also walked through the Beach Club's lobby. We've been to Animal Kingdom Lodge and the Grand Floridian on the last trip, and each have differently impressive décor, as I imagine all of the deluxe Disney resorts do.
Trattoria al Forno
The restaurant that hosts the character breakfast is called Trattoria al Forno, which alludes to its Italian design and fare in the evening. Breakfast is a bit themed as well, but it's easy to find American fare as well on the plated menu. This is unusual since most character meals are buffet or prix fixe. We had quite a wait after checking in, and I wish we had known it would be awhile, because we would have found a place to sit outside since we were given a buzzer. The reason for the wait is that the restaurant is broken up into two rooms, and the characters interact with each room in turn. So basically, they have to empty, fill, and seat a whole room before the characters arrive, unlike most character dining we've been to where each table is turned over separately.
Bon Voyage Adventure Breakfast
The theme for this experience fit in perfectly since we were traveling today. Each of the characters were announced separately, with Flynn Rider leading and Prince Eric bringing up the rear. They were given a few minutes to start working the room before the next character was announced. They each had a set path they followed to greet guests, and there was a parade/dance throughout the room in the middle (which my kids refused to participate in). Flynn was cracking jokes, Prince Eric was cordial, and the two princesses were their bubbly and fun selves. I am definitely glad I picked this one!
Too Much Food
The breakfast was certainly filling and deliciously good. Carter had Flounder's Flapjacks, and I had Tangled Eggs. Maggie, considered an adult in Disney's eyes, ordered Flynn's Feast on the adult menu. Since we had to wait for everyone to be seated, we had to ask for a kids menu for her so she could do the activities on it. There was also a pastry basket served in a mini cast iron frying pan. Those little touches. It was all too much, and I ended up asking for to go boxes. Even though they were a little hard to handle through the airport and all the way home, what's better to ease the post-trip blues than eating Disney leftovers at home the next day?
What To Do Now?
We still had several hours before our flight, so we tried to figure out what we were going to do the rest of the day. Maggie wanted ice cream at the first place we passed, but it was straight after our breakfast where we couldn't even eat everything! Instead, we walked the rest of the BoardWalk until we got to the little beach at the Beach Club Resort. The kids could just see a sneak peek of the pool area, too, and were intrigued. Maybe we will stay here sometime!
Disney Transportation Woes
I wish I had an app or easy infographic of the complicated Disney transportation system before we set out on our next adventure: riding the Monorail. We could have walked to EPCOT, but it's the International Gateway, so we wouldn't have been able to access the Monorail from there without a park ticket. I decided that we would have to ride a bus to the Magic Kingdom to get the Monorail there.
Disney Monorail
We ended up doing both the Magic Kingdom Express and EPCOT loops twice, getting off at EPCOT to head back to Pop Century before our flight. It was a lot of Monorail riding, perhaps too much, but it was fun to see the sights since we've had limited experience with the Monorails at Disney World. First off, it's an actual transportation system, not a "ride" like at Disneyland. Also, there are three different lines that run: Magic Kingdom Express from the Ticket & Transportation Center to Magic Kingdom, the Resort Loop which stops at the three Resorts on the line (Contemporary, Polynesian, and Grand Floridian), and the EPCOT line which runs from the TTC to EPCOT. That one is fun because it runs all through EPCOT before getting to the station there.
More Transportation Woes
Whenever you are trying to get around the Walt Disney Resort, it is a huge gamble. You don't usually know when the next bus will come. You might have just missed the last one, or another one isn't scheduled right away, or three other buses come for the other park instead of yours. It can be very frustrating, especially when you have to be somewhere at a certain time. We had to be at Pop Century by 2:00pm to catch our Magical Express bus back to the airport. We cut it extremely close when we arrived at the Bell Service desk just as the coach was pulling into the driveway. Whew!
The Club at MCO
We arrived at the airport with plenty of time to relax at the lounge for a couple of hours since Magical Express is always scheduled around three hours prior to your flight. I could have given them another flight number in order to leave later, but I didn't want to gamble with our times since I am already time management-challenged. Luckily, this gave us more time to check out all of the great amenities the Club at MCO had to offer. I had just read a review online of the Club on the other side of the airport, and this one beats that one hands down. It was not located at our gates, but since it's on the same end of the airport, all we had to do was hop on the SkyTram back to the terminal, and then slide over to the other one going to our gate.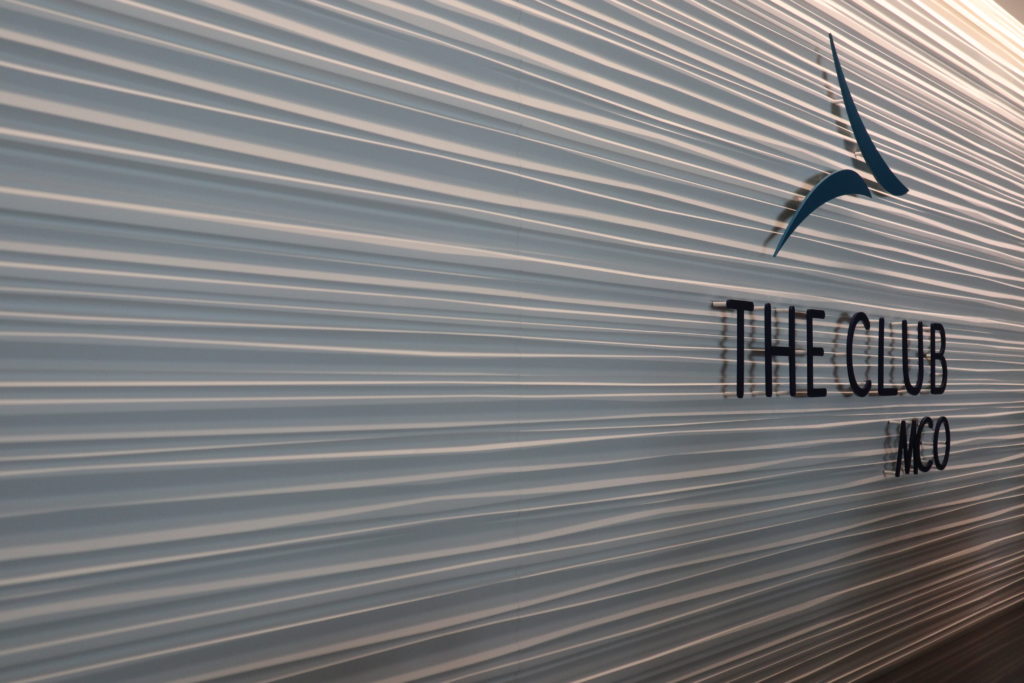 Club Amenities
There was a yummy spread laid out, and it was just in time for us to be hungry again from breakfast. The drinks were self-serve on a fountain, which is better than the little self-serve fridges in PHX. Since it is located in the International area of the airport, the lounge was very busy and great for people-watching. There were so many different seating choices that it took a few minutes for us to decide where to land, and we ended up in seating very much like in PHX, instead of choosing something new. There was a small kids room with a TV, video games, and some toys. The bar was separated into its own lounge room, which was nice. Back by the bathrooms, there were even showers!
Flight Home
The kids were happy to have time on their iPads on this flight since I didn't require them to sleep. It seemed like a really long flight, and before checking, I didn't realize that it is a full 45 minutes more to go west than east. Crazy! It was a good trip, but we've never done such a short trip when going so far east. It is definitely better if you can stay awhile longer before that long flight home. It was a struggle to get the kids to bed at a decent hour since they had school in the morning. A buffer day would be ideal, but that would mean missing more school! Ah, where's the balance!?