113/365
Over the past two weeks, I've been mulling over the efficacy of our goal of getting Disney Premier Passports starting in September. When Disneyland surreptitiously raised ticket prices overnight almost two weeks ago, I had to take a step back and reevaluate. Here are my top three reasons to adjust my goal, and if you click on the heading, you can read my in-depth article on each one.
First and foremost was the price. The increase on the Premier Passport was $382 each. That's a big jump, over 20% more, and it kind of shocked me. I figured Disney would raise the prices, just maybe not that much, that soon, and, honestly, that pass type. I had already tried to find a way to soften the blow, especially since I am planning, saving, and could even purchase ahead of time. However, this type of pass cannot be purchased ahead. A regular pass can be purchased ahead, but I'm not sure how far ahead. It's something I may actually have to call to find out.
The next thing I needed to consider was the lineup of new attractions coming to the different Resorts over the next year or two. The last time we were at Disney World, we missed Pandora by a few months. Two years later, and we still haven't seen it.
While Disneyland has new stuff coming, it isn't on the same scale as Disney World. They have construction going on all over the place! Disneyland's construction is limited to Star Wars: Galaxy's Edge and the new Marvel-themed land. They do have a couple more additions to Pixar Pier that will open this year as well, but those are rethemed attractions—nothing compared to the laundry list of new attractions that Disney World has in store. Disneyland's new additions should be completed by this year or the next, but Disney World's extends out to 2021.
Lastly, as the kids get older, it gets harder for them to miss school. I don't mind taking them out for travel, but as the work gets more complicated, they don't look forward to the mountain of make-up work they face after a trip. This has more than one implication. Instead of traveling when we want to (read: when rates are cheaper and crowds are lower), we have to travel when everyone else travels. Plus, when comparing the levels of annual passes, we wouldn't be able to get the lower level passes since they are blocked out during those times when the kids have off from school.
Making a New Plan
In light of these three considerations, we now have to make a new plan. I realize that instead of trying to split our limited amount of time over a year between the two Resorts with Premier Passports, we should get consecutive annual passes, first to Disneyland for 2019-2020, and then to Disney World for 2020-2021. Our trips during each of these two years will look very different. With Disneyland, lots of four night stays throughout the year are perfect and easy, while longer, but fewer, trips are necessary for Disney World since it's farther away and bigger in size and scope.
Adding Some Splurge
I have to admit, I am sad about giving up the dream of holding my own golden card that allowed me to visit either Resort whenever I choose for a whole year. However, I'm comforting myself with two ideas. One, that I will hold that golden pass sometime in the future, and two, that we'll add some splurges into our new plan since it covers two whole years, and we're spending less on each pass initially. My husband told me he wants to stay at the Grand Californian at least once. I think it would be awesome to try out one of the resorts on the Monorail Loop or within walking distance of EPCOT and Hollywood Studios. The kids and I dream of doing the Walk in Walt's Footsteps tour at Disneyland, and I know my husband would love the Behind the Seeds tour at EPCOT. Any one of these splurges can be covered by our discounted Disney gift cards.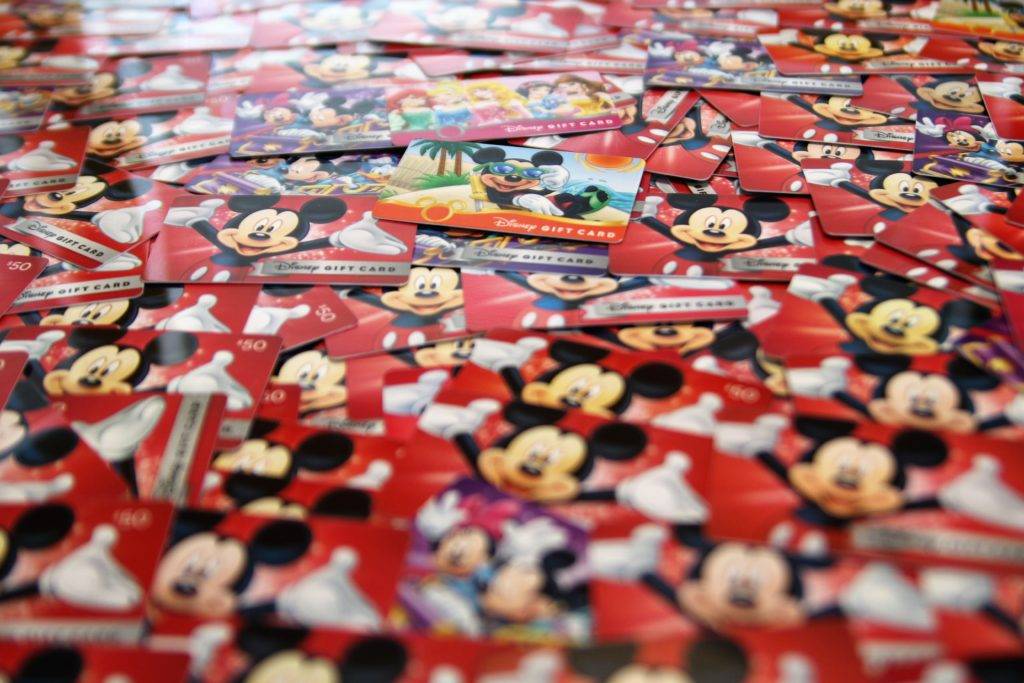 Two Years Instead of One
Our passes for the two Resorts put together will cost more overall since we have to buy them separately, but we'll have two years of Disney fun instead of just one. With another year added, we have that much more time to save up. We won't have to cram as many trips into the same number of school holidays. Since Disneyland's new offerings should be coming to a close in 2020 with the Marvel-themed land opening, we'll start with that Resort. That puts us in a perfect position to take advantage of all of the new attractions opening at Disney World by 2021 for their 50th Anniversary.
What is your travel goal for the next year?