Day 149/365
Starting tomorrow, Monday, February 24, 2020, Swagbucks will be celebrating their 12th birthday week with all kinds of enhanced SB earning potential. There will be opportunities to earn with extra games and free rejoins on Swagbucks LIVE, a Swag Code Extravaganza, Birthday Swago with Spin & Win, a special birthday collector's bill, increased payout on Shop, specials on MyGiftCardsPlus, and giveaways on Facebook and Instagram. Whew! Let's dive in!
Swagbucks LIVE is going to be LIT this week! There will be a whopping eight games throughout the week, with four of them on Wednesday, February 26, 2020, culminating with a $12,000 prize in the game at 5pm PT. Plus, you can earn three free rejoins for each game you play, for a total of 24 for the week! Amazing!
Swagbucks LIVE is an app-based trivia game from Swagbucks. It airs every weekday evening at 5pm PST, with a bonus game on Mondays at 4pm PST. You just have to answer 10 questions correctly in a live game. Sounds easy, right? Well, sometimes it is, but there are a few obscure questions sprinkled in here and there.
Second Chance Week
This is also a Second Chance Week, meaning that for each game you play, you'll earn free rejoins to use the following week. I am in serious need of some free rejoins for Swagbucks LIVE, so I am extremely pumped to earn three free rejoins for every game I play this week!
Rejoining and Bonus SB
When you get a question wrong, you have an opportunity to rejoin. If you don't have any free rejoins, you'll have to pay precious SB to rejoin. You could take the chance, but I will rarely use SB to rejoin. That strategy may not apply to the $12,000 game, for sure! Even if you are eliminated, you can keep playing to earn bonus SB on most questions you answer correctly. Make sure you keep the app open until the end of the game to click to claim your bonus SB if you don't win. Click here to read my article all about Swagbucks LIVE.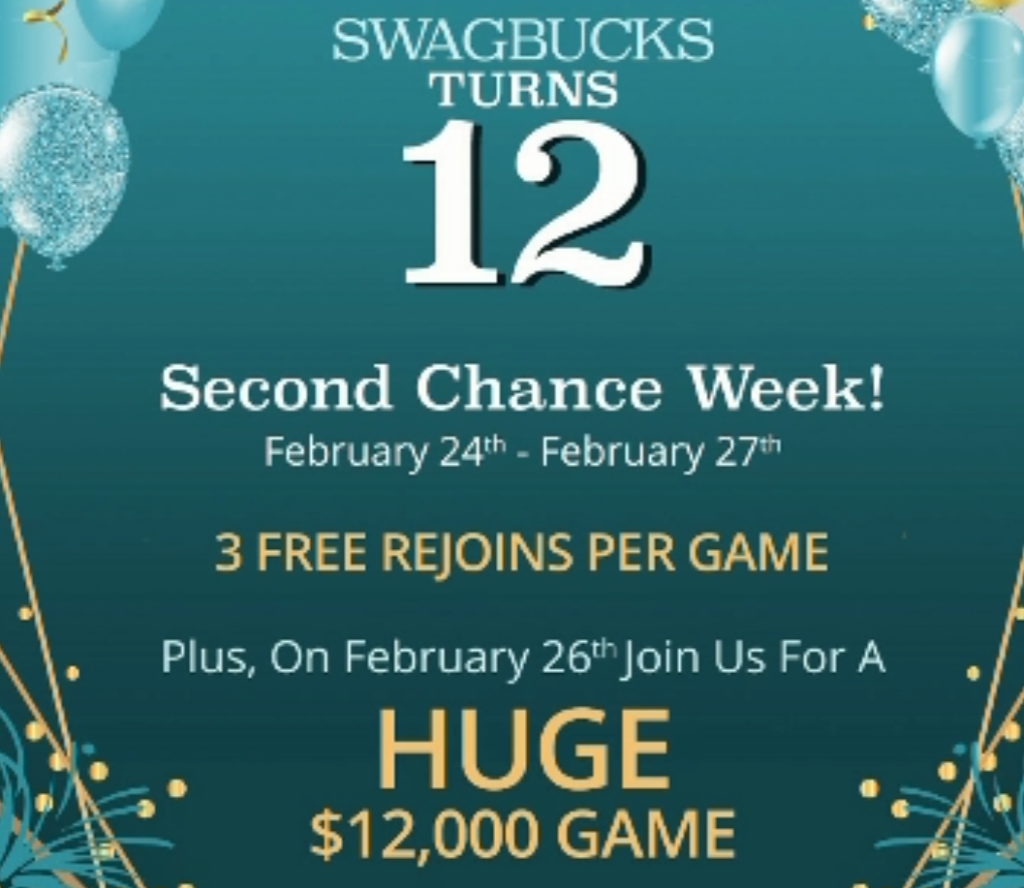 Swag Code Extravaganza
Swagbucks is planning to send out no less than 12 Swag Codes throughout the day on Wednesday, February 26, 2020, starting at 6am PT. You can earn 70 SB in total with these codes, and you will need the SwagButton and Swagbucks app to redeem them. Click here to learn more about Swag Codes.
Birthday Swago with Spin & Win!
You can click here to pre-register for Swago so that any activities you complete will begin to credit to your board starting right at 12:00am on Monday, February 24, 2020. You will need to submit your board by 11:59pm PT on Monday, March 2, 2020.

Playing Swago
Swago is like Bingo with activities to complete to fill in each square. You can see the patterns along the right side of your board. As you complete more complex patterns, the Submit button will appear under the pattern. Try to complete the highest pattern you can to earn more SB. Once you complete a square, you need to refresh your browser to see the square colored in. If you need help on a particular square, simply click the small i in the corner.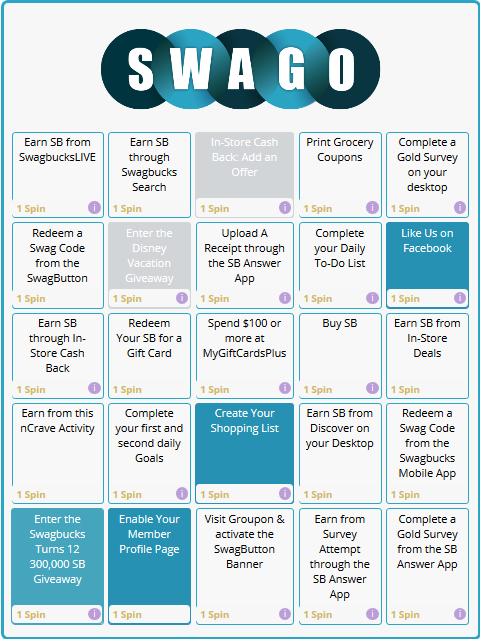 Swago Activities
While we can't see the board yet, there are some activities that we know will be on it. UPDATE: Now that we can see the board…
In-Store Cash Back: Add an Offer, and link your credit card
Earn SB through In-Store Cash Back, shop at a store you've added and use your linked card to pay. Do this early in the week to allow time to credit
Join the Member Recognition Program, this will automatically credit Enable Your Member Profile Page
MyGiftCardsPlus, do this early in the week to allow time to credit, however, you may want to wait until Wednesday to see if there are deals on any gift cards you need. UPDATE: The minimum is at a all-time high with $100 for the square to be activated. Whew!
SB Answer App Activities, use the app to complete
Swagbucks Live, earn SB by winning or collecting bonus SB for correct answers
Usually I just ignore the square on the board for Buy SB since I can't participate. I'm hoping that one will be left off this time because I am looking forward to that 1200 SB for a full board. I'll even buy gift cards and do in-store offers! However, it would be for naught if I can't complete the Buy SB square. I did contact customer service, and the agent suggested I contact them again if there is such a square beginning on Monday. UPDATE: No further information is known by customer support on 2/24/2020.
Purchasing SB is currently limited to residents in the United States. However, residents of AZ, CT, MD, and ND are not allowed to make SB purchases due to applicable state law.

Swagbucks Help Center
Another couple of activities that need some time to complete is Print Coupons and earn SB from Discover on your desktop. Make sure you do both of these squares early to allow time for the offers to credit to your account.
Spin & Win
Since there is a Spin & Win associated with this Swago, I would complete as many squares as possible before you submit any pattern. That way you can earn more spins, even on squares that are not in your pattern. I also like to use the spins as I earn them in order to then turn around and use the spin wins, such as survey bonuses and free rejoins, to complete more squares on the Swago board. It's a vicious spin cycle!
Birthday Collector's Bill
This special one day collector's bill will only be available to find on Wednesday. It is worth 12 SB, plus a 5 SB bonus. You can win this collector's bill through Swagbucks Search.
Expect to find increased cash back payouts for several stores on Wednesday only. This will be good if you have some shopping to do at those stores with increased percentages. As always, check with Cashback Monitor first to make sure that Swagbucks is paying the most, even with increased amounts.
MyGiftCardsPlus Bonus and Specials
This week, you can expect a 112 SB bonus on any $50 purchase from MyGiftCardsPlus. Also, there will be special offers for some brands of gift cards on Wednesday. You can take advantage of these deals and mark off the square on your Swago board at the same time if you wait until Wednesday to purchase.
Giveaways on Facebook and Instagram
Head to the Swagbucks page on Instagram and Facebook to enter to win one of five prizes of $100 in SB on each account beginning on Monday. Winners will be announced on Wednesday afternoon
Wrap Up
This could be a tremendously lucrative week on Swagbucks, and I am here for it! Unfortunately, I won't be here for it since we are flying to Anaheim on Wednesday morning night (long story). Perfect timing, though I can't really complain! I'll be participating as much as possible, getting most of the Swago board out of the way on Monday and Tuesday.