174/365
Earlier this month, Bryan and I headed downtown to meet up with friends and see Billy Joel in concert. We aren't getting any younger, and heading home after an 8:00pm concert didn't sound appealing, so we decided to get a room nearby for the night.
Expiring Free Night
Back in January, I had decided to change up our Universal Orlando trip to add a night at Disney. I had booked two nights at the Hyatt House Universal on points, and one night with my free anniversary night from my Chase Hyatt card. I canceled the free night and realized that it was going to expire on March 10. So I turned around and booked it for a night at the Hyatt Regency in downtown Phoenix, which is a Category 3. The Hyatt award allows you to book a free night at any Category 1-4.
Aging Gracefully
Sometimes I'm surprised at the value that I can get for a free night. This hotel has been a staple of the Phoenix skyline for as long as I can remember. As a teen, my mom, grandma, and I went to a special lunch in the Compass Room at the top of the hotel to celebrate who-knows-what, but I remember it as a big deal, very fancy, and with awesome views as we completed a 360° circle on the rotating floor during our meal. The hotel is definitely dated, but still a bargain for the $75 annual fee on the Chase Hyatt card. Rates for our night were over $200, likely due to Spring Training and its convenient downtown location.
Concert Venue
It was so nice just to walk the few blocks back to our hotel to turn in for the night. Usually when we are downtown for an event, our parking spot is at least as far as the walk was to our hotel. We probably paid the same amount as we would have for parking, since it isn't included in the free night unless you are a Globalist with Hyatt. Parking at the hotel is listed as $23 for self-parking, but the garage the valet directed me to was only $15 for event parking. I even confirmed with the attendant that I could park there overnight, so I was able to save myself $8, likely due to competition from other lots for the concert crowd.
Travel Like a Roadie
While I was in line for the restrooms, I met a woman who had come into town just for the concert. I wondered how many other people had this idea since we had done this to see Sting and Peter Gabriel in Tahoe a couple of years ago. She had used frequent flyer miles and hotel points, so the short trip didn't cost anything more than the concert tickets themselves. It makes a great option if your favorite act isn't playing in your town. You can pick a city on the tour schedule, and use points and miles to pay for it. We couldn't have asked for a better venue in Tahoe, under the stars in the crisp night air!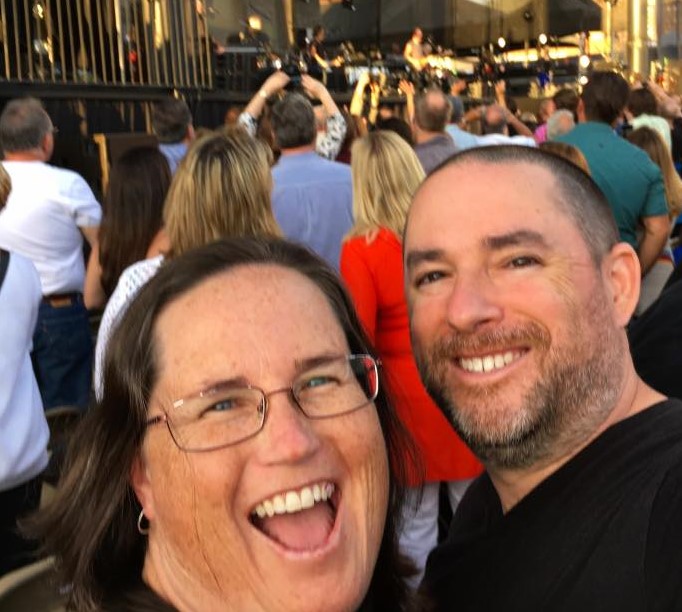 Hotel Amenities
There weren't too many amenities we could take advantage of at this hotel. It doesn't have a club lounge like other Hyatt Regencies do, so we couldn't use one of our free lounge access awards for evening hors d'oeuvres and breakfast in the morning. The pool is very small, but the hot tub was perfect for a quick dip in the morning to soothe aching muscles leftover from standing all evening. The lobby was chaotic while we were there, and it seemed laid out very differently from when I've visited before, perhaps temporarily during renovations. I had hoped to check in early and check out late with our Explorist status, but our schedule prevented it.
Perfect Date Night
We were so lucky to get a great night out! The kids were happily settled at Gramma's house with some extra cousins thrown in for good measure. We had a nice room with a fantastic view (see video above), saving ourselves the drive home after a long night. Of course, the concert was fabulous, and we sang along to every song. Perfect date night!