220/365
Just in time for Cinco de Mayo, shopDisney is having a sale with three ways to save: $5 items, 55% off, or $5 off. Hurry, this sale ends tonight!
Stack Your Savings
Before you head to the shopDisney page, use a click through portal to earn an extra few percentage points off. A quick check with CashBack Monitor tells me that TopCashBack probably has the best payout around right now at 3%. Click here to sign up with TopCashBack if you are not already a member. If you have the Chase Disney Visa, you can get 10% off with code:
DRVCMEMBER since this is a sale and not a bonus off code. If you use the Chase Disney Visa code, you do have to pay with that card instead of saving by using Disney gift cards at checkout, so you'll have to assess your particular savings situation.
Finding the Savings
There are over 600 items on sale, so I suggest you filter the list in order to see the best deals for you. Of course, the items I would hope are 55% off are only $5 off, and the lower-priced items are 55%, so it's a very clever marketing gimmick without really losing too much money. You might find a gem or two for your family that is right in the sweet spot.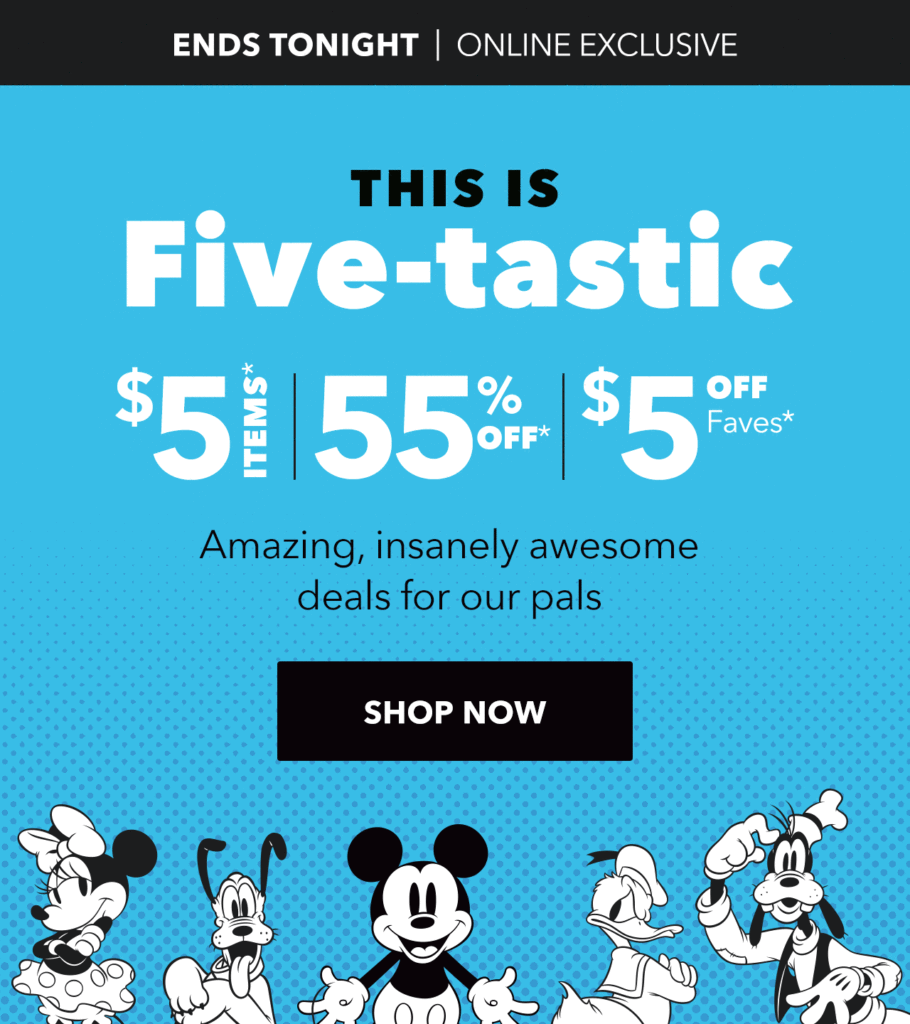 SHIPMAGIC
You'll need at least a $75 order to get free shipping, (code: SHIPMAGIC), so hopefully you'll have enough in your cart for that minimum since shipping can be an expensive but unnecessary expense. I always have things leftover from the last order in my cart since I usually only order the minimum, or from a sale that I clicked on but never ordered. It gives me a good starting point for next time, and then I move things I'm not getting this time into the Saved for Later section.
Stocking Up on Disney Items
Instead of waiting until you get to the Parks to buy shirts and souvenirs, you can take advantage of these sales to stock up your supply. I love getting matching family shirts or fun PJs or even toys occasionally that we can use both while waiting for our next trip, and when it finally rolls around.