358/365
The new streaming service, Disney+, just cast its net wider, inviting two new groups to hit the ground running when the service launches on November 12. Disney Visa cardholders were sent emails and slick brochures, and Disney Destinations email subscribers received the offer in their inbox this week.
Save on Disney+ Subscriptions
Last month, I wrote about the deal you could get on through your membership in D23. While that deal is over, if you are a Disney Visa cardholder or you subscribe to Disney Destinations emails, you can sign up for either two or three years, and save $20 or $40 respectively off of the regular annual price of $70 per year. Unfortunately, I don't have an offer link for this because you have to get the mailer or email and use the codes associated with your account.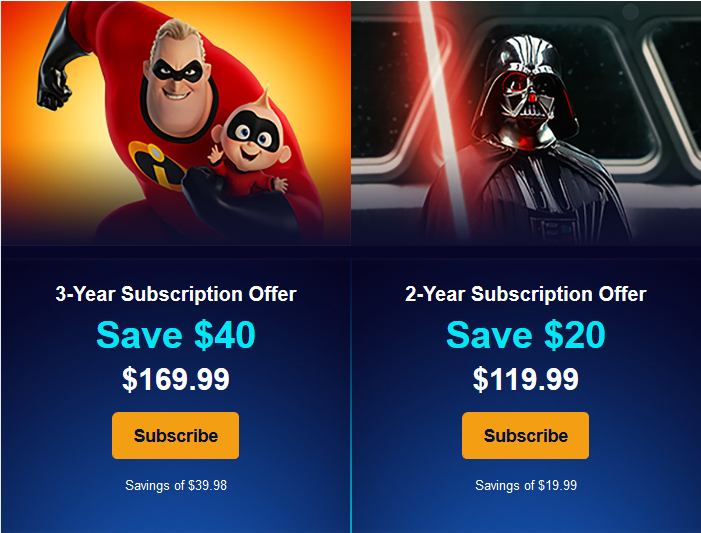 How To Get a Disney+ Offer
While not everyone may carry a Disney Visa card, anyone can sign up for Disney Destinations email marketing to receive offers like this one. Simply go to your Disney account at Disneyland or Walt Disney World and make sure that you have checked all of the subscriptions you wish to receive. I realized when I went to check them that I keep getting information about Disney Vacation Club, and that is something I would never consider, so I just unchecked the box. I'm also surprised that I wasn't subscribed to the Freeform list since they put out several fun promotions throughout the year.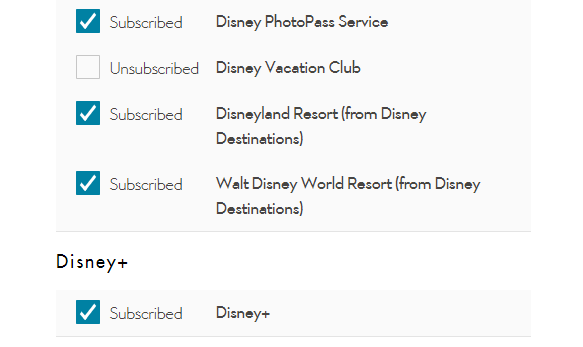 Waiting for the Next Wave
I'm sure there will be another wave of offers for the next tier of Disney fans, so if you don't qualify for these offers, I'm sure another one will pop up in a different circle. The offer for Disney Visa cardholders is good through September 30, 2019, and the one for Disney Destinations subscribers is October 11. There should be more as we get closer to November 12.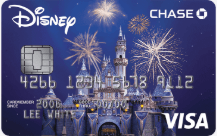 Alternative Bundle Savings
If you want to wait, Disney+ will also be offered as a bundle with Hulu and ESPN+, all for $12.99 per month. We didn't want to wait for this offer because, while we are Hulu subscribers, we like the ad-free version, and this deal is for the one with ads. Plus, we don't have any interest in ESPN+.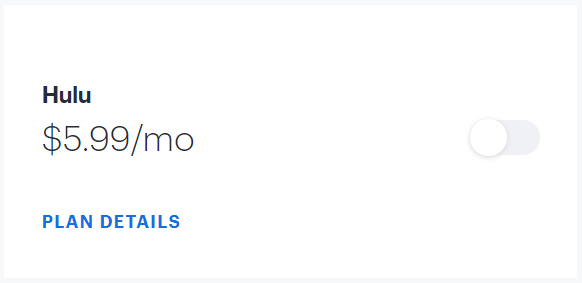 Sweeten the Deal
Back in May, I wrote about the changes to the American Express Blue Cash Preferred that included 6% cash back on streaming services. Well, add Disney+ to that list! I used my Amex to pay for this service, so I hopefully will see an extra $9 in my Amex rewards account next month! However, if you do the deal with your Disney Visa Card, you will have to pay for the service using that card.