191/365
For Spring Break this year, we headed West to put our Six Flags annual passes to good use. In this part, I'll go over the budget, while the next part will include our itinerary and other fun stuff! If you click here, you can follow along on my trip budget spreadsheet as I go through each category.
Entertainment
I detest water parks, and even though we have one about a mile from our house, I have so far resisted the temptation to buy annual passes there. Well, resisted is much too strong a word. Avoided, vowed to never, changed the subject, pouted, and put my foot down. Luckily, my kids haven't pressed the issue, but this year, my girlfriend did. She told me last fall that if we bought passes, they would be good for ALL of the Six Flags parks since they were buying out our water park. Such a deal! They only cost about $67 a piece with tax, and I dreamed of visiting every Six Flags in the country while avoiding going to our own water park down the street!
I didn't tell the kids, but I had been gifted tickets for the three of us to visit Knott's Berry Farm. A few of my friends and family had visited this park and raved about it. Now I knew what they were talking about, and am amazed at the value of this little park. Tickets range from $49 to $52 per person, and you can get an annual pass for double that! It's a wonder this park isn't packed all of the time!
Food
This is the category that busted our budget! When I bought our season passes to Six Flags, my friend also talked me into getting the dining plan. I figured we'd never eat that much food, so I did like she suggested and only bought two passes for the three of us. This worked out alright last fall when we visited the water park, but come to find out, Six Flags limits the time you can use each meal: Lunch is 11:30-3:30 and Dinner is 4:30-7:30. My kids are not into sharing, so we did run into trouble using the two credits for three meals each time. Now that our own water park is open, my friend reports that they have the meal time restrictions, too. I may have to bite the bullet and buy another dining pass.
When I bought the pass, I dreamed of getting more value out of it by stopping there on my way to work or simply running over to pick up something to eat, but their menus are severely lacking in nutritional value. Magic Mountain had a walk-up counter that held all of the park's nutritious offerings in one place. Their kale salad was so dense, it took me an hour to eat it. Unfortunately, I'm not sure if any of these healthier offerings have made it over to our water park yet.
Once we arrived at Knott's Berry Farm, I was shocked at how much we were spending on food, and it was just for one day! I didn't have discounted gift cards like at Disneyland or a meal plan like at Six Flags, and we were on the road, so we couldn't have snacks in the room. Luckily it was only one day!
Lodging
Originally, we had planned to make this trip with our friends, but they had to cancel at the last minute. I was able to change our hotel reservations from a Hyatt Regency without a lounge (read: no breakfast for us lowly Explorists) to a Hampton Inn with breakfast included. We also switched from two nights to three since we were driving and also adding on a day at Knott's Berry Farm. Hilton Hotels require an exorbitant number of points to book, but their credit cards also earn quickly, so it offsets the price a bit. I can also buy points with my Thank You account from Citi, but I try to only do that with a specific redemption in mind when they are on sale. As it was, I had enough Hilton points to cover about two-thirds of our stay, so I paid the rest in cash.
An unexpected lodging cost came up when I found out that Knott's Berry Farm was open until 8:00pm on the day we were visiting instead of 6:00pm as I originally planned. I had intended to drive back to Phoenix after that, but six hours after 8pm was looking too wearisome, especially after we'd had a harrowing drive over at the beginning of the week and arrived at our destination at 1:00am. I decided instead to look for a hotel to break up the drive a bit and found the Hyatt Palm Springs. It was right in the middle of town, and I could book it with our Hyatt Visa's anniversary free night since it surprisingly is a Category 3 hotel. My Hyatt Visa is a legacy product with an annual fee of $75, so I figure the room cost us the annual fee in return for the free night. However, I think we definitely got our money's worth.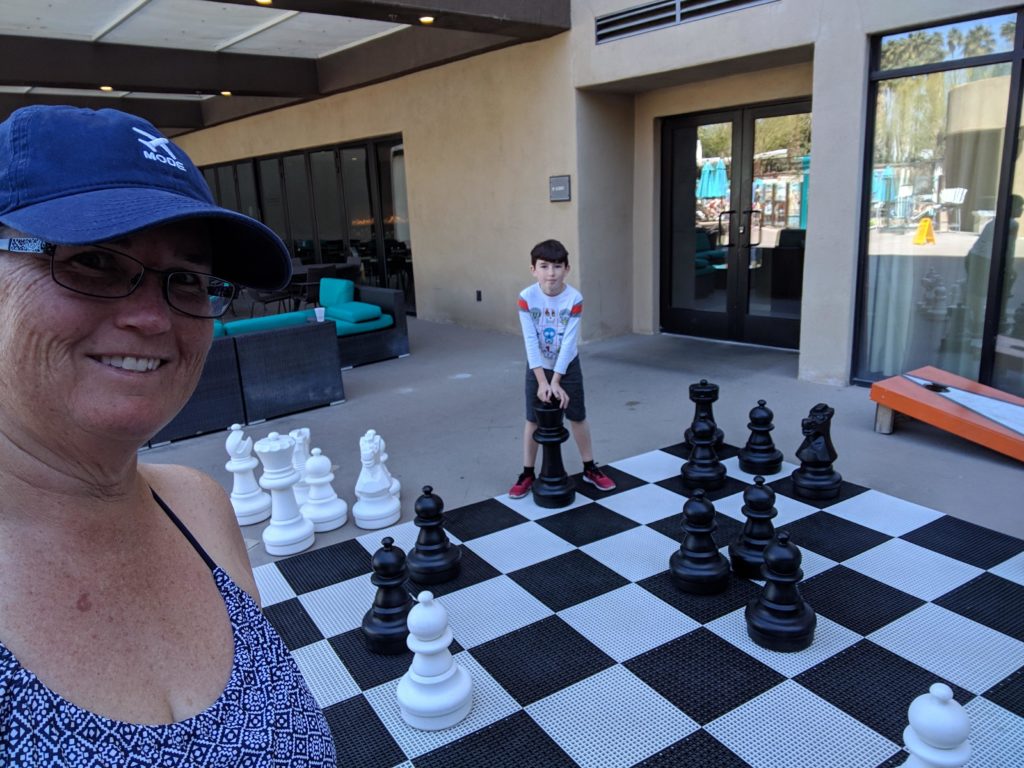 An added bonus is that Hyatt tracks how many brands you've stayed in, and if you try five different brands, you get a free night. We were on our fourth before the Hyatt, so while we were using a free night, we earned a free night! Since Hyatt now has 15 or 16 different brands, you could conceivably earn this award three times! We've stayed at Hyatt Place, Hyatt House, Hyatt Regency, Andaz, and now plain old Hyatt. We'll start on our next Brand Award with a stay at a Grand Hyatt this summer.
Transportation
Our transportation category is pretty boring. It includes the fuel that it took to drive from Phoenix to Valencia, down to Buena Park, through Palm Springs, and back to Phoenix. I do try to save some by fueling up at the border before crossing into California, and then only getting enough fuel in Cali to get us back over the border. The app, Gas Buddy, helps us find the stations with the cheapest fuel in any community. Parking at Knott's Berry Farm did set us back $20, but parking is included in our season passes at Six Flags. Parking was free at the Hampton, but the Hyatt charged $27 per night. However, the front desk clerk informed me that there was free street parking just behind the hotel.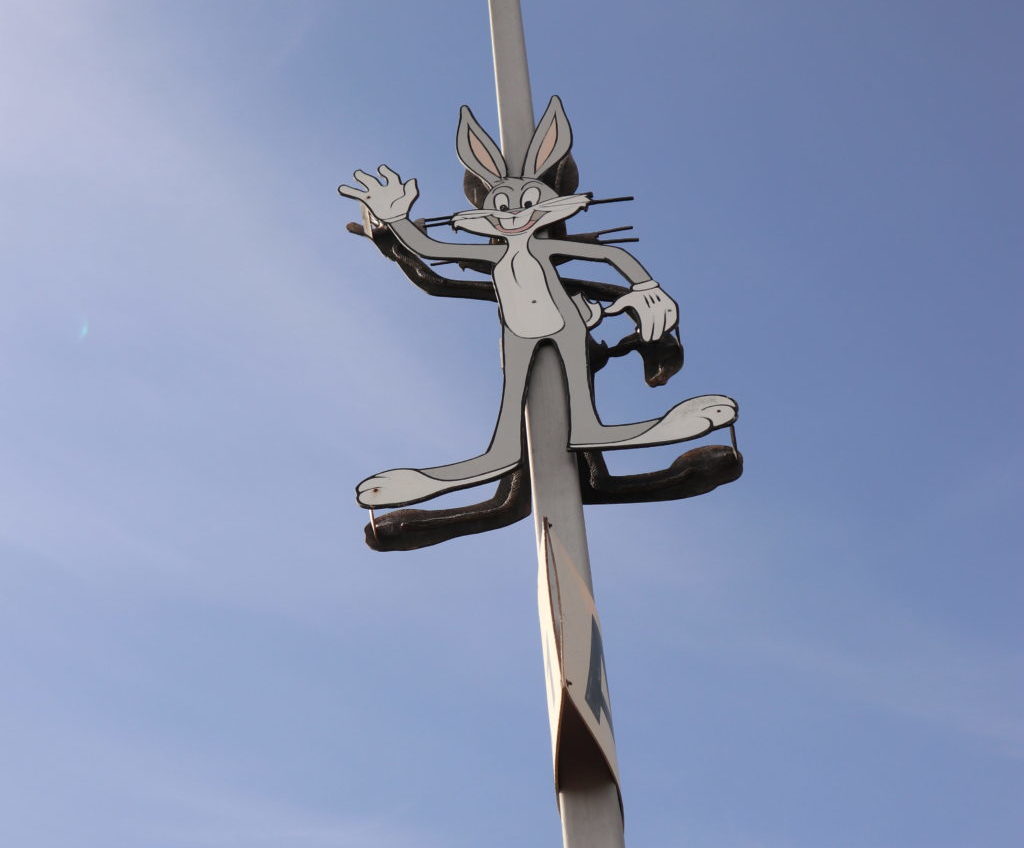 Savings Breakout
Looking at our overall savings, we really packed it in. I included our season passes and dining plans to Six Flags in this trips, so our visits to the water park and any other parks we might do this year are essentially free from here on out. If you look at the spreadsheet here or below, you can see that we spent under $1000 and saved over $1300, over 58% in savings! You can check out the Value vs Actual Cost chart here, and the Actual Cost by Category chart here. Tomorrow, I will go into more detail on our itinerary and share some more photos!