150/365
In yesterday's post, I wrote about the rocky start that our trip to Universal Orlando got off to. Today, we try to get back on track by going to the parks for the first time. You can also read about our budget and deals in this post.
Late-ish Start
In the morning, I figured that the kids would need to get some sleep after not going to bed until 2:00am, but then I realized that we would miss breakfast if they slept later than 9:30am. I woke them up with enough time to dress and go downstairs with the promise that they could go back to bed if they were still tired after breakfast. Hyatt House has a great free breakfast spread, and they were ready to go to the park after a filling meal.
Easy Walk
Sometimes when a hotel touts itself as "right across the street" from an attraction, that doesn't mean it's easy to get there from here. This one was a cinch. The hotel had a shuttle, but we didn't even bother to inquire about it since the walk was less than a mile. We had to cross one minor street both ways, and then we were on Universal property. The walking path goes through the parking garage, which might be confusing for people who took the shuttle to the park and decided to walk back.
Universal Studios
Universal Orlando is broken into two parks, much like Disneyland and California Adventure, except that the distance between the gates is a bit further. We decided to start at Universal Studios because Maggie was really anxious to see Diagon Alley and ride the Hogwarts Express from there into Hogsmeade and not the other way round. We had decided that today would be an easy day, since we were getting a late start and didn't have Express Passes.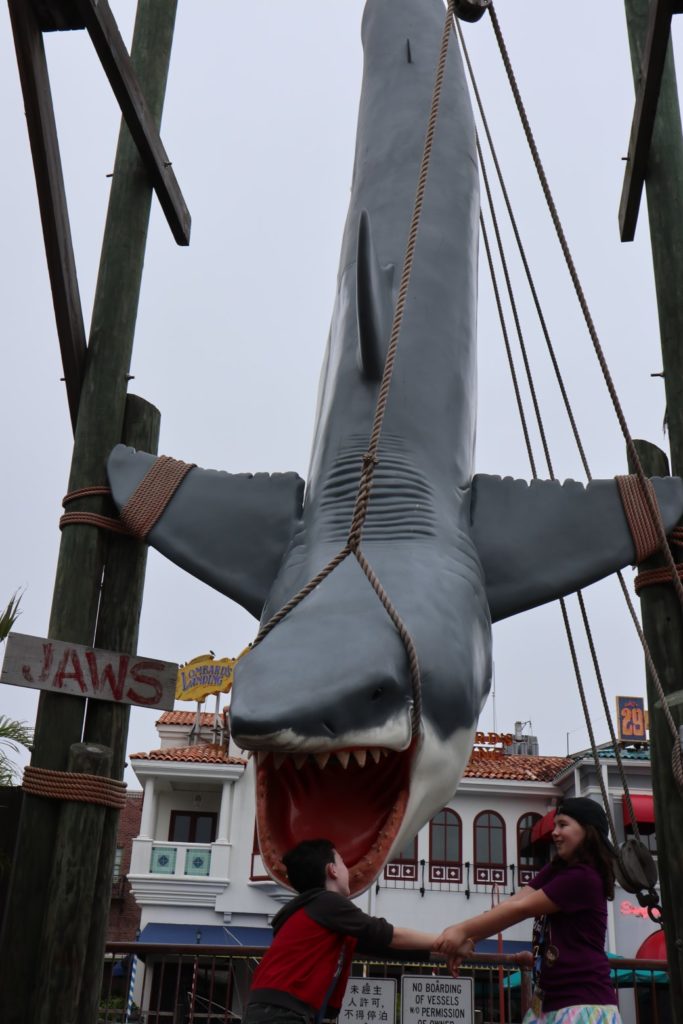 Diagon Alley
This area of Universal Studios is probably the best-themed in a park anywhere. You really do feel as if you walk through a secret passage into a magical world. Maggie and Carter were properly awe-struck, especially when the dragon atop Gringotts Bank started to spew fire right as we came in. We browsed the shops (Weasleys' Wizard Wheezes being the favorite), caught a show, and bought some frozen Butterbeer, which was too much for Maggie and I to share one between us.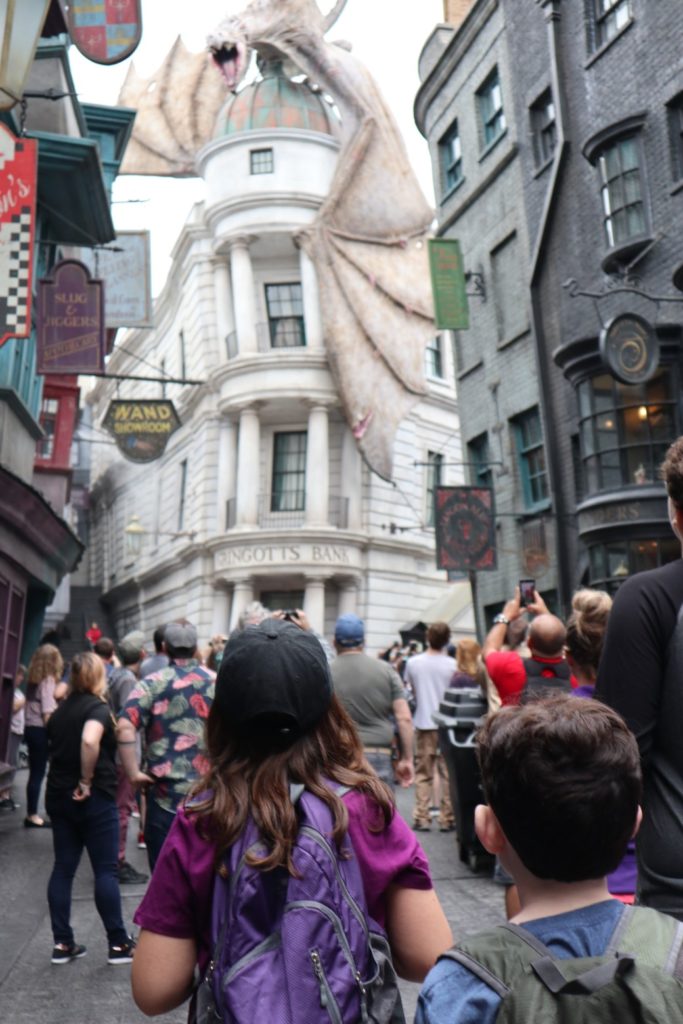 Hogwarts Express
Even though they detest standing in line, 20 minutes was apparently not too long to wait for the Hogwarts Express. We got in line, not realizing that the bulk of the holdup was to scan park tickets to see who had (or didn't have) the park-to-park feature. Maggie and I had to exchange our confirmation voucher for printed tickets at the ticket booth, but Carter had to use the one I had printed at home. It was a pain and rarely scanned correctly. Thinking back, I wonder if it would have scanned from the app like at Disneyland.
We had another bit of a holdup further into the queue, but by this time we were grateful for a little down time. The queue mixes with the Express Pass line just before everyone climbs the stairs and you "disappear" onto Platform 9¾. It's a neat trick. The platform looks really cool, and it was hard to see how they were able to load and unload passengers at each station so quickly.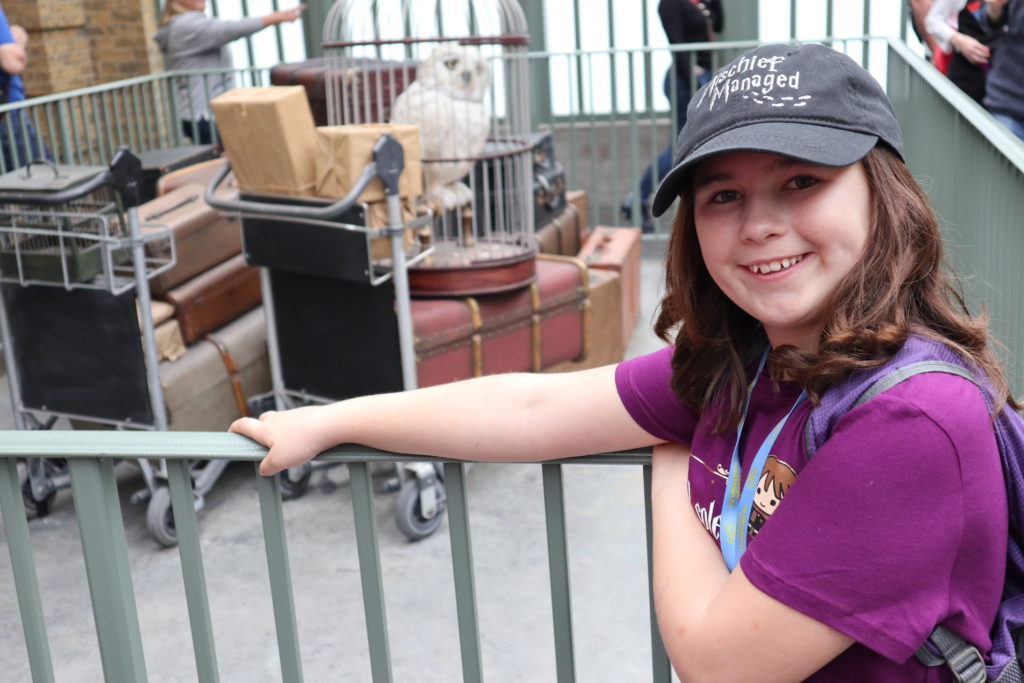 The train has compartments just like in the movies, and you get assigned which to go into by the porters. It's not a simple train ride either. The story plays out on the "windows" on either side of the compartment so that you really feel as if you are a student on your way to school in the north of England, even getting boarded by dementors in the middle of the ride. Very cool.
Hogsmeade
This area of Islands of Adventure, the other park at Universal Orlando, is just like the one in Universal Studios Hollywood, so it was very familiar to us. I had to keep reminding myself that we were in Florida and not California! We browsed the shops once more and caught a show on the little stage.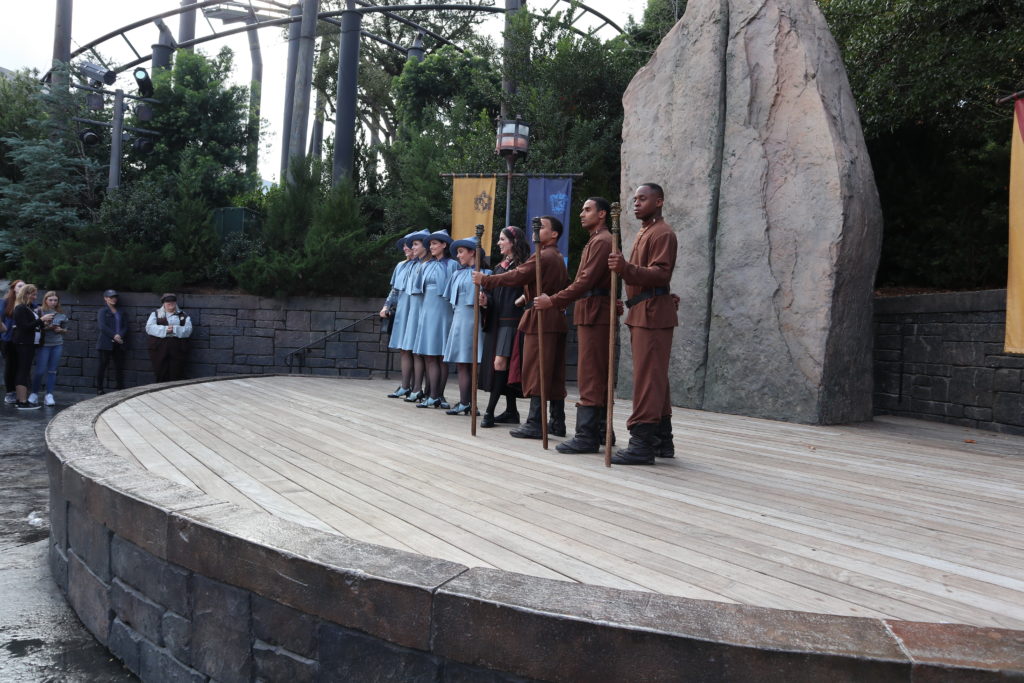 Three Broomsticks
Also familiar was the Three Broomsticks restaurant where we've eaten many times in Hollywood. We headed there for a late lunch since we had eaten breakfast late as well. I had the potato and leek soup with a salad, and the kids both had mac and cheese with grapes and "chips". We were halted at the dining room with our food on a tray to wait for a table to clear, but we asked if there was outdoor seating so that we could sit right away. I imagine patio tables don't get too much use in the sticky Florida weather, but at this time of year, it was pleasant enough to sit outside.
Seuss Landing
We spent the rest of the afternoon in Seuss Landing. It is a whimsical land that is themed around the books. We rode the Cat in the Hat and One Fish, Two Fish, Red Fish, Blue Fish, which is like Dumbo, but with menacing fish that threaten to soak you. It's even more insidious that unlike Dumbo or Astro Orbiters, you, the rider, are not in charge of when you go up or down. The fish are in charge.
If I Ran the Zoo
We needn't have worried about the fish getting us soaked, because the next stop was a playground themed to If I Ran the Zoo, with a little splash pad. Maggie was the first to get drenched, and then Carter joined in as well. The playground is loaded with interactive areas that encourage active play. Very clever!
Spending Money
Since we had been browsing shops all day, I had put off any spending until 6:00pm so that they had had enough time to really consider what they wanted before buying something on impulse. We headed back to Diagon Alley in Universal Studios to do their shopping. The parks closed at 7:00pm, but I figured the stores would be open later. No dice. They closed right at 7:00pm, and we ended up with employees drumming their fingers waiting for the kids to make up their minds on their purchases.
Bag Saga
I had a phone call sometime during the day from Texas to tell me that my bags had been found and that I should expect a call from the airport as to when they would be delivered. I received an email on the way back to the hotel that they had been assigned a driver and would be arriving within an hour, or at 9:00pm. I could track her progress on the map even. I asked the desk to call when they arrived, but thought better of it since the kids fell asleep right away, and I didn't want the call to wake them up. Instead, I went down to the lobby to wait. She didn't arrive until almost 11:00pm!

I was anxious to open the food bag to assess the state of my frozen tea bottles since it had been over 36 hours since I had packed them. Surprisingly, they still had ice in them, so the food had stayed fresh the whole time!
Read Day 3 Tomorrow…
Stay tuned to read all about Day 3 of our trip!