151/365
Our second day in the parks gets a little more interesting since we move over to the Royal Pacific Resort and pick up our Express Passes. You can read about our budget and deals in this post here, Day 1 here, and Day 2 here.
Packing and Moving
After having gotten myself to bed after 11:00pm the night before, I wasn't looking forward to getting up early to pack and move to the next hotel. Luckily, the kids weren't too keen on getting up early either, so I had plenty of time to pack everything up and ready to go after breakfast. We took a Lyft to Royal Pacific Resort, which is themed like a resort in Hawaii. It was really nice, and we were able to store the bags with the bell service and get our room keys to head to the parks.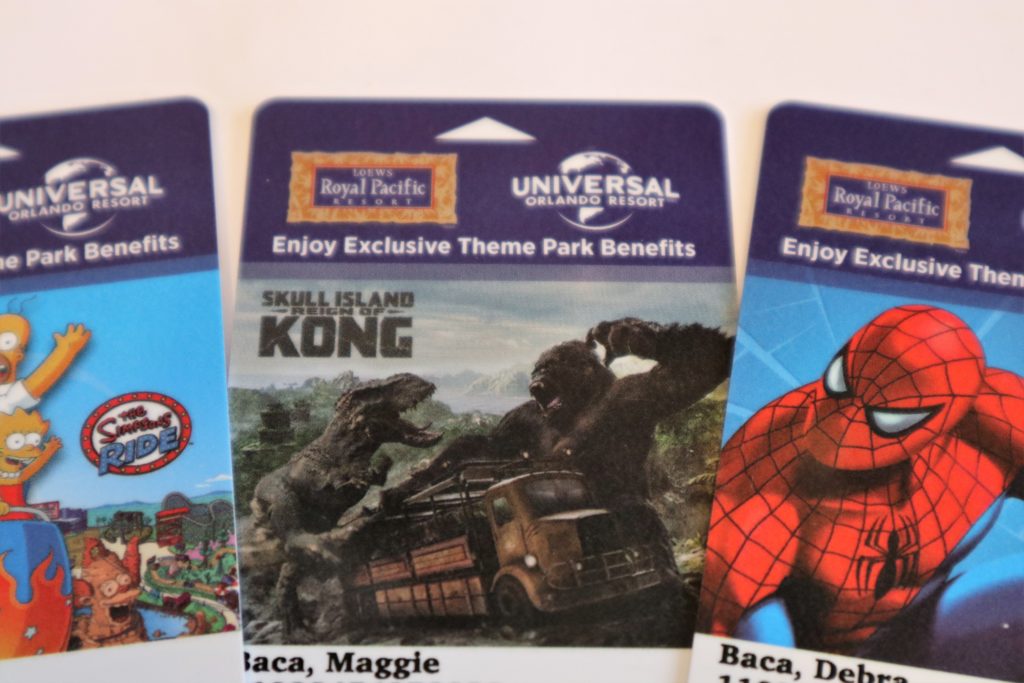 Ferry To the Parks
We decided to take the ferry to the parks rather than walk the short path. It wasn't a long wait, and we went through security here instead of once we arrived at the end of CityWalk. Universal security uses metal detectors and x-ray machines like at the airport, so it's a little easier than bag check at Disneyland. Carter always frets about the metal on his lanyard or jeans but never has a problem!
Back to Universal Studios
Maggie was anxious to visit Diagon Alley again since she decided to don her wizard robes and bring her wand. We did some spells with Maggie's interactive wand as we entered, but we were anxious to try out the new-to-us Gringotts ride.
Escape from Gringotts
We happily got into the Express Pass line but were quickly shut down and directed to first visit the lockers at the side. This would begin a frustrating two days of storing our bags in the lockers almost every time we went on a ride. Ugh. What made it worse was that there was a line for the lockers! Double ugh! To top it off, the lockers cost $2. What?! Forbidden Journey in Hollywood requires your things to be in lockers, but at least they are free. I was hoping this wasn't going to be a trend for the rest of the day.
The Hogwarts Express (Again)
Forbidden Journey was next on our list, so we hopped onto the Hogwarts Express to get over to Hogsmeade in Islands of Adventure. We found out that the lockers for this ride are, indeed, free. On other rides, I realized that some rides have their smallest lockers for free, but the bigger ones cost money. Maybe I just happened upon a paid locker at Gringotts, not realizing that a smaller one would not require a credit card. The locker is tied to your ticket, so each of us could get one, and we needed them with the amount of gear we pack. Once we had the popcorn bucket, it wouldn't even fit into the small locker without being laid on its side and literally smushed to fit in.
Jurassic Park
We spend a good part of the day in the Jurassic Park section of Islands of Adventure. Here we found a playground, a discovery center, and a ride called Pteranodon Flyers that the kids had to ride by themselves. Maggie got to name a baby dinosaur that "hatched" in the discovery center, and was told that she could check on her growth whenever she visited next as long as she knew her birthday. We also rode the Jurassic Park River Adventure that is a lot like the one in Hollywood.
Marvel Super Hero Island
Next up was Super Heroes. We got to help Spider-Man capture some criminals, Maggie was brave enough to take on the Hulk Coaster, and the kids went on Storm Force Accelatron. I had to sit out of these last two because my motion sickness was in full swing. I happily babysat the bags right next to the infernal lockers while the kids rode the rides! We all tried out Doctor Doom's Fearfall because I love drop rides, but this one is intense. The good thing about it is that you can stow your bags on shelves along the sides instead of in lockers. We did this one twice in a row, it was so fun!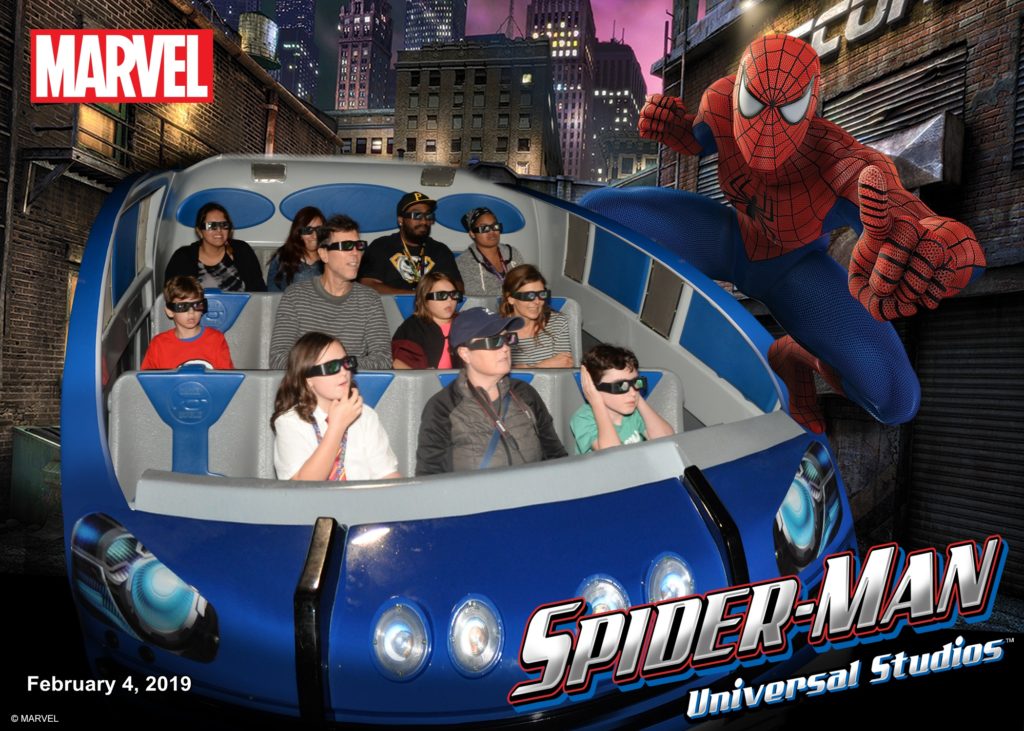 Men in Black
We took the Hogwarts Express back over to the other park because it's a different experience on the way back. So fun! We didn't have much more time before closing, so we decided on the nearby Men in Black attraction to finish off our night. I LOVE this kind of ride. It's just like Toy Story Midway Mania, Buzz Lightyear, and the shooting game at Legoland Discovery Center. I'm not sure what I like so much about these games. I don't play games in general, but the competitive side of me really comes out when it's a ride!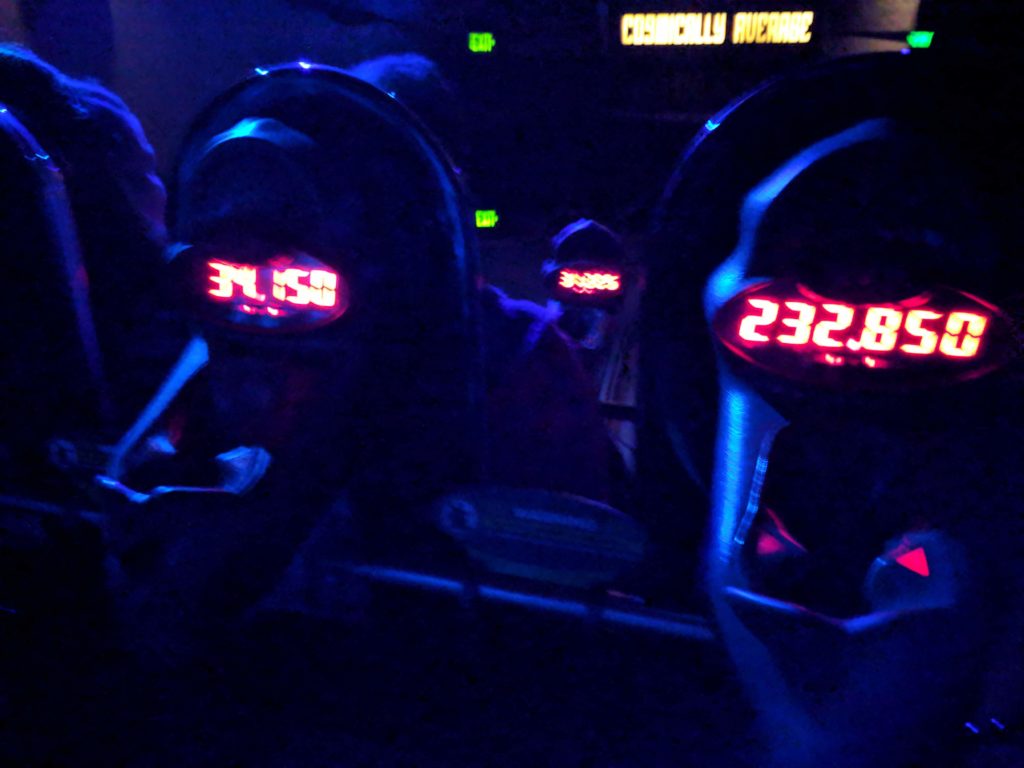 Royal Pacific Resort
The kids decided that they wanted to swim at the hotel. I decided that I could use a dip in the hot tub. They actually had two, but one was lukewarm, so I decided to try the other one. It was freezing cold. Oh, well. I let the kids play a bit more before we called it a night.
Stay Tuned for Day 4…
Come back tomorrow for our last day in the parks. Do we even make it to the third park, Volcano Bay?