224/365
Today, American Express wrote to existing cardholders to update them on changes to the American Express Blue Cash Preferred. While changes to credit card benefits tend to be dreaded, American Express has really hit it with these new cash back categories!
Cash Back on Streaming Services
Joining supermarkets in giving 6% cash back is a great 21st century category: streaming services. With more and more people cutting the cable cord and going all digital, this is an exciting and innovative development in credit card rewards. In our household, we use Amazon Music, Audible, Hulu, and Netflix. I've already gone through and changed over all of our autopay settings to charge to our American Express Blue Cash Preferred. We stand to earn $6.50 in cash back per month across the four services! Here is a list of services that qualify according to the American Express website:
Amazon Music • Apple Music • Audible • CBS All Access • Direct TV Now • ESPN+ • Fubo TV • HBO Now • Hulu • iHeartRadio • Kindle Unlimited • MLB.TV • NBA League Pass • Netflix • NHL.TV • Pandora • Prime Video Unlimited • Showtime • Sling TV • SiriusXM Streaming and Satellite • Spotify • YouTube Music Premium • YouTube Premium • YouTube TV
Cash Back on Commuter Services
In addition to earning 3% back on gas, Amex has added other commuter services as well, such as trains, taxi cabs, ride share services, ferries, tolls, parking, buses, and subways. I don't tend to use my American Express Blue Cash Preferred for gas since there are other more profitable cards to use, such as Chase Freedom when it is a quarterly bonus category, or even my Citi Costco card with 4% cash back. We rarely use public transportation at home, but often use it to travel, including ride shares such as Lyft and Uber, commuter trains to and from the airport, and buses and subways in the city. Amex is a bit late to the party, though, because I can get 3x points on these purchases with my Chase Sapphire Reserve or Citi Premier. You can also earn 3x Ultimate Rewards in these categories with the Chase Ink Business Preferred. Ultimate Rewards are much more valuable than cash, so 3x is worth more than 3%.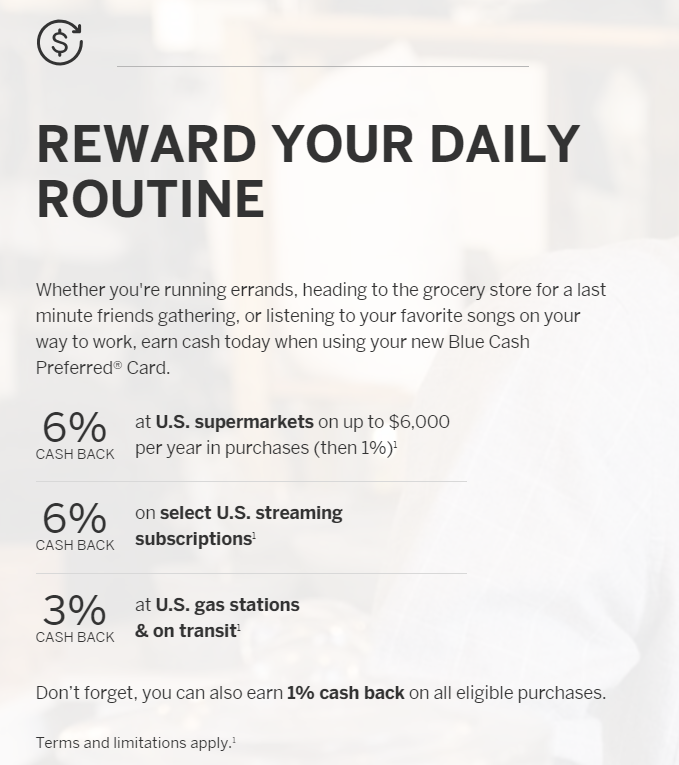 Department Stores
In exchange for these additions, Amex is taking away one cash back category: department stores. I rarely used this benefit as I don't shop at department stores, so we won't miss this one in our household.
New Look
The card is also getting a new look and a contactless "Tap & Go" feature added to this card. While I did like the old transparent card, this new one has a bold look. However, I won't see it for awhile since they are rolling it out as members' cards expire. If you use any of the links in this article, I will receive a referral bonus, and you will receive a sign up bonus. Do check the public offer first, as it can vary from the referral offer.