Day 75/365
The links contained in this article may be affiliate links. If you use them, I may earn a small commission, so thank you for supporting my site!
Update 12/18/19: Atom informs me that this promotion "has been exhausted" since it was "while supplies last". Ugh! It's not even the holidays yet!
Through the New Year (and beyond), you can see a movie for less (and with more convenience) with Chase Pay and Atom. Read on to find out how to claim this deal and maximize your spending with Chase at the same time.
The Deal
Through January 1, 2020, you can get $7 off one order with Atom Tickets by paying with Chase Pay. This is a great deal just in time for some holiday movie-watching. If you don't need a ticket in this time-span, you could parse your free ticket out a bit by ordering it for a future date beyond January 1.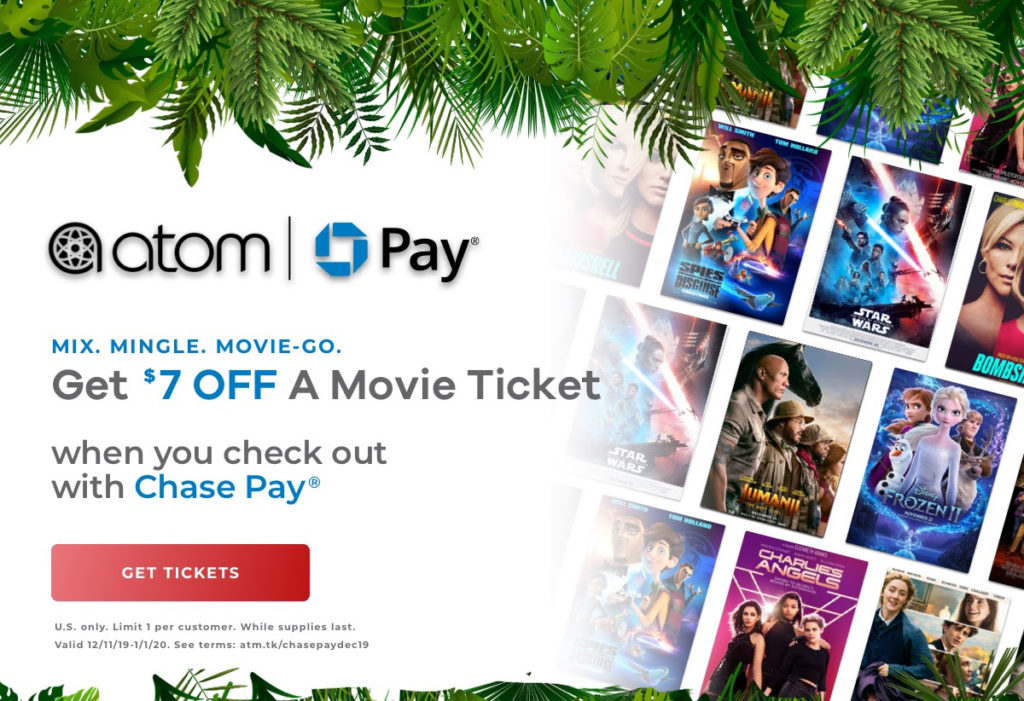 Click Through From Rakuten
If you'd like to get some cash back on your purchase at Atom, go to Rakuten first. It looks like they will pay 2% cash back at Atom. To accomplish this, you'll have to start at Rakuten in your mobile browser instead of on desktop or the Atom app. If you haven't signed up with Rakuten (formerly Ebates) you can click any link here to join with my referral. You can earn $10 when you make your first $25 purchase, and I'll earn some rewards, too!
Paying for Convenience
Ever since our local movie theater went to reserved seating, the days of walking up to the box office to buy a ticket to the next showing are gone. Now, it's a good idea to buy tickets ahead of time to make sure you get a good seat. The easiest way is to purchase them ahead of time online. However, there are always "convenience" fees added with this method. Well, yes, it is more convenient to buy it ahead of time online, however, I will go out of my way to avoid paying more, even if that means braving traffic to stop by the theater located in the mega shopping corridor to buy them in person at the box office ahead of time. That's why it's nice when I can enjoy the convenience of the online order without the added fees with a deal like this one.
Chase Pay with Freedom
Chase Pay is a 5% bonus category this quarter with Chase Freedom, so make sure you select your Freedom card as the primary card in Chase Pay. You'll need to do this before you check out on Atom. When you select Chase Pay in the Atom app or on your mobile browser (which now includes Chase Pay as an option, but not desktop), make sure that the last four digits of your Freedom card are showing at checkout. You should also see the $7 discount reflected in the subtotal once you select Chase Pay as your payment option. Check out this article for more information on using Chase cards to create a strategic spending strategy.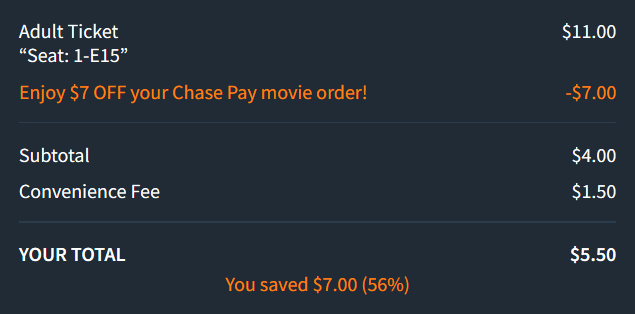 Which Movie?
Unlike last time, this promotion goes for a nice long three weeks, so you're bound to be heading to the theater in there somewhere. I have my eye on Cats, and the kids want to see Spies in Disguise, which will earn Disney Movie Insider points as the first Fox picture promoted by Disney, so be sure to connect your accounts if you use this promo to buy your tickets through Atom. Happy movie-going this holiday season!