Day 140/365
Rakuten (formerly Ebates) is having a one-day sale at over 150 popular online stores with 14% cash back to celebrate Valentine's Day.
How It Works
Just sign up for Rakuten here. Once you join and make a purchase of at least $25, you will get a $10 bonus! I will also get a bonus for referring you to their site. Whenever you intend to make a purchase online, check how much Rakuten is paying in cash back for that site. (I always like to check Cashback Monitor first to see if any other click-through portal is paying more.) When you are ready to shop, click on the store's page from Rakuten or whichever click-through portal is paying the most. They will record your click and any purchase you make on the site. Be sure to click through before you put anything in your cart, and click through again if you don't buy anything for more than a day, or if you make more than one transaction.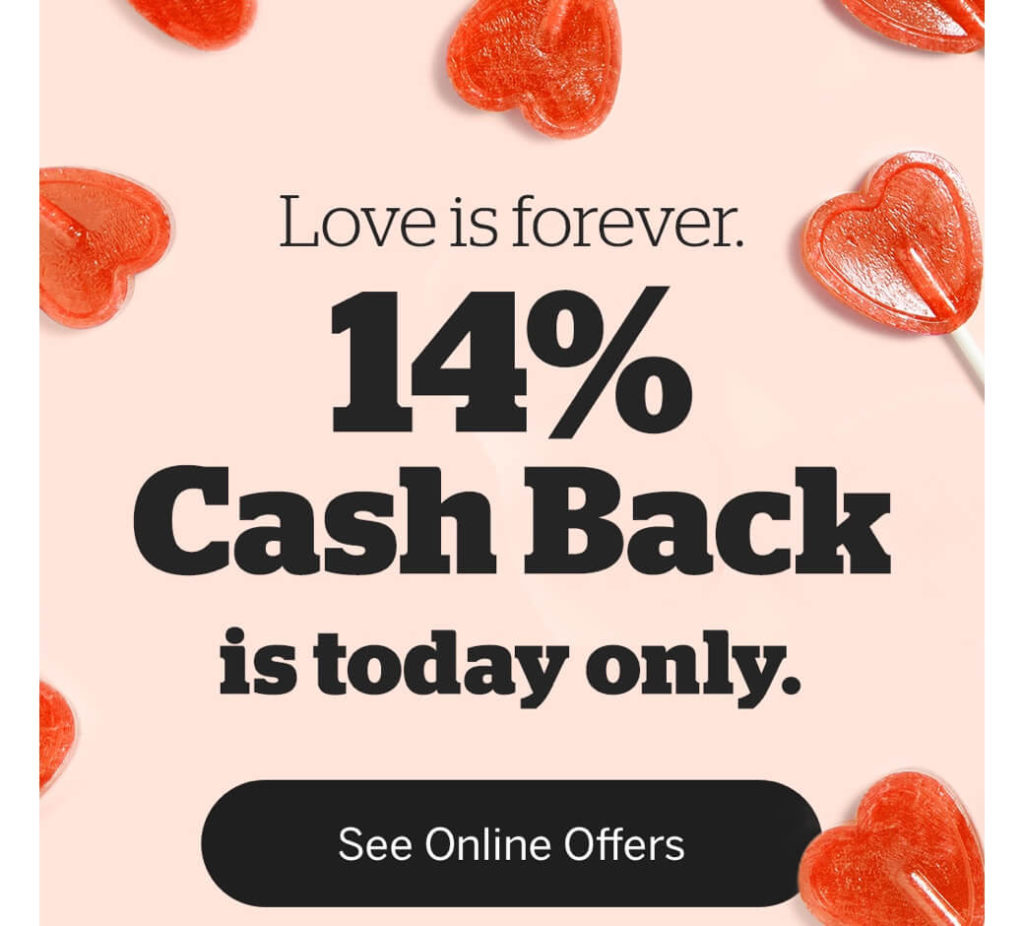 Stacking Offers
It's so great when you can stack offers even further.
Get cash back through an online portal like Rakuten.
Use a discount code from the shop's site.
Get cash back from an offer on your credit card.
Earn rewards from online stores.
Stacking Example
I've been needing to use an Amex Offer from Aveda for a few weeks. I buy their shampoo and have discovered many other great products that they offer as well. This is usually because my Amex Offer is get $15 off $75 or more. Well, my shampoo doesn't quite make the minimum, so I usually pad the cart to get to the minimum, which includes tax since it's a total spent. However, sometimes that's hard to do, because Aveda is ALWAYS giving away products for free. Plus, Rakuten lists other coupon codes that you might not know about. Today, I was able to get two free products, one from Aveda's regular promotion, AND another from a coupon code I found on Rakuten. I'll save $15 from Amex, $10 from Rakuten, and get two free products from Aveda!
Earn Membership Rewards
I recently dove into American Express Membership Rewards by getting a Business Blue Cash that earns 2x MR on everything. In trying to build up my MR points, I changed my Rakuten account over to earn MR points. While I don't earn very many points from Rakuten, they're worth more than earning cash back any day!