195/365 This post contains affiliate links. If you use them, I may receive a small commission, which helps support me in bringing these great deals to you, so "Thanks!"
This week through Saturday, April 13, 2019, you can rack up the credit card rewards by purchasing gift cards at Staples.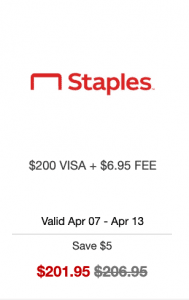 Visas Plus Retail Gift Cards
This sale includes a few retail and restaurant cards, plus $5 off Visa gift cards. Visa gift cards are my favorite kind, and while this is not a money-maker, it can earn you valuable travel rewards when you use a Chase Ultimate Rewards strategy!
Earn Ultimate Rewards for Travel
I use my Chase Ink Business Plus to get 5x Chase Ultimate Rewards at office supply stores. While Chase no longer offers this card, you could use my referral to get the Business Preferred (which does not get 5x at office supply stores), and then downgrade to the no annual fee Business Cash (which does get 5x at office supply stores), as long as you have another premium Chase card, like Chase Sapphire Preferred or Reserve to use your Ultimate Rewards for travel. You can transfer your points to partners like Hyatt and Southwest (my favorites) or book travel directly and use your points to pay. One $200 gift card will earn you 1,000 Ultimate Rewards. Click here to read my article about utilizing Chase Ultimate Rewards to create a strategic spending plan.
Get 5x Spending EVERYWHERE
The great thing about these fee-free Visa gift cards is that after buying them with my Chase Ink Business Plus (or Business Cash), I know that when I use them, I'm essentially getting 5x on all of my purchases. This is how I maximize my spending! 5x at the dollar store, 5x at the movie theater, 5x at the doctor's office, 5x on my kids' field trips and church pledge. That's right! By using these Visa gift cards to get a money order at Walmart, I can earn 5x on any spending that requires a check or cash! This is where the beauty of the fee-free Visa gift card really comes shines in your strategic spending plan.
Terms
The terms of this offer state that you can get one $200 gift card per customer, but users have reported being able to get as many as 10, since the store's limit is $2000. Your miles may vary, but if I want to buy more than one, I'll either go to more than one store or stop by the same store on another day. Be sure you have the cash to be able to pay your credit card balance when it comes due. Otherwise the interest will negate your rewards many times over.