340/365
Head on over to Disney Movie Rewards for two new Disney Challenges today. You can play both the regular Challenge and the Marvel Challenge to add five points each to your account.
Marvel Challenge
Click here to find the Marvel Challenge for September and see if you can answer all eight questions correctly. I can't believe I got seven out of eight correct on the first try! This tells you that they like to recycle the questions. The one I didn't know was number six about which character made an appearance in the after credit scene of Doctor Strange.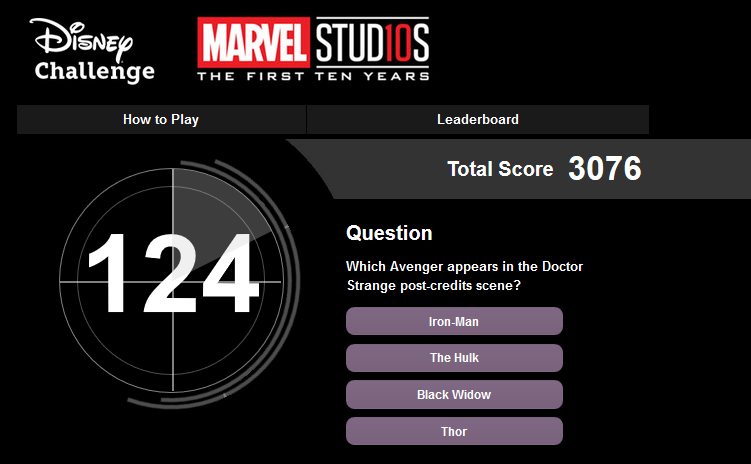 Disney Challenge
You can go here to find the first Disney Challenge of the month. They go live every first and third Monday of the month, and you can play the old one until the new one goes live. Since they've added an extra set of cards, I'm finding that I run out of time before I get to the last set. It seems like a silly part of the game to put a timer on, and it's definitely a glitch. I've tried playing on my daughter's iPad instead of my PC, and that helped, but it still cut off the whole last set of cards.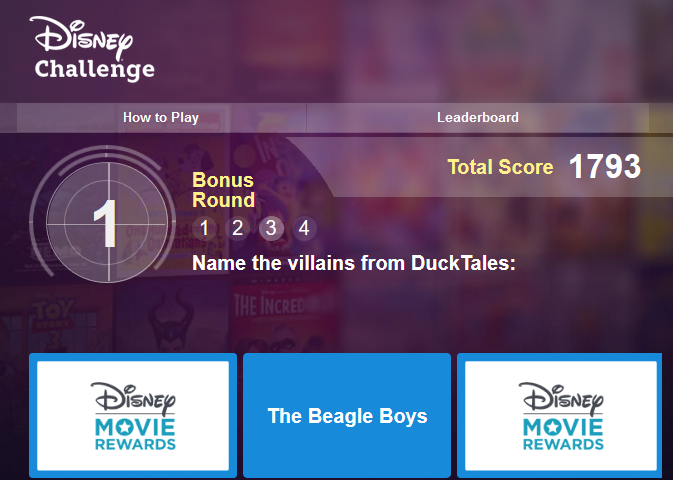 Trivia Challenges
You can find the Disney Challenge under the Earn Points menu. The Marvel Challenge is a bit trickier to find. You have to find and click a banner with the Marvel 10th Anniversary Celebration on it and then go to the Marvel Challenge square on the Marvel Studios 10 main page. You can also find it under Content & More on the menu. Every once in awhile, I've found the link hasn't been updated yet, so I have to try different numbers in the URL until I hit on the correct one. Here is the link to the new Marvel game for September if it hasn't updated yet.
Earning More Points
If you need more points to pad your account, here are some ways you can earn more:
Link your other accounts like Atom, Fandango, and Regal, even if you don't use them
Enter codes from any Disney/Star Wars/Marvel movies you own or buy
Upload tickets or link to a ticket broker like Atom or Fandango to earn points on movies you see in the theater
Look for a bonus code in a monthly email from Disney Movie Rewards
Play the Disney Challenge twice per month starting the first and third Mondays of each month
Play the Marvel Challenge starting on the first of each month
Look out for opportunities to enter bonus codes, especially on social media
Watch your email for a birthday bonus like my husband just received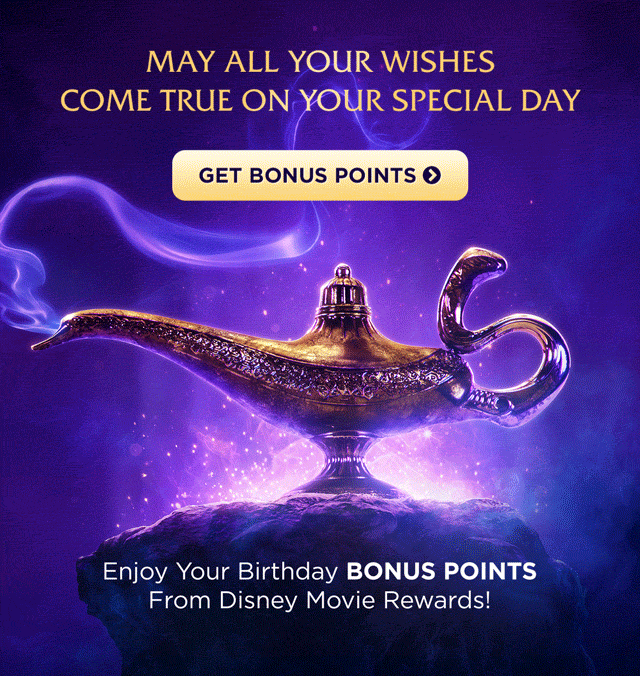 Redeeming Disney Movie Rewards
The reason you want all of these points is that you can earn free Disney gift cards, which are good on most things Disney, like food, merchandise, theme park tickets, and even lodging. The most abundantly available cards are electronic, but I like to collect the different character and themed cards. Cast Members love to comment on my unique cards, like just the other day when I used my Wreck-It Ralph card at the Disney Store!