Day 30/365 2018-2019
One way to maximize your spending is to stack offers from stores and use cashback apps that pay you when you make a purchase. Shopkick takes that concept one step further and rewards you for just going to stores and looking at offer ads besides giving you cashback on your purchases.
Say Hello To Shopkick
With the Shopkick app, each store has a variety of ways to earn "kicks" by interacting with the store. You can get walk-in kicks, kicks for scanning products, kicks for clicking through to an online store, and kicks for uploading receipts, making a purchase with a linked card, or scanning a QR code at the register.
Discover Section
You can also earn kicks on the app by browsing their Discover section, watching videos and clicking through sets of ads. Each one only earns a kick or two, but if you open the app and click through the Discover section each day, it adds up without having to set foot (or mouse) in a store.
Bliiiing!
One of the most appealing aspects of Shopkick is the chime that sounds when you earn kicks. I don't know why I love it so much. It's like the dinner bell to Pavlov's dogs!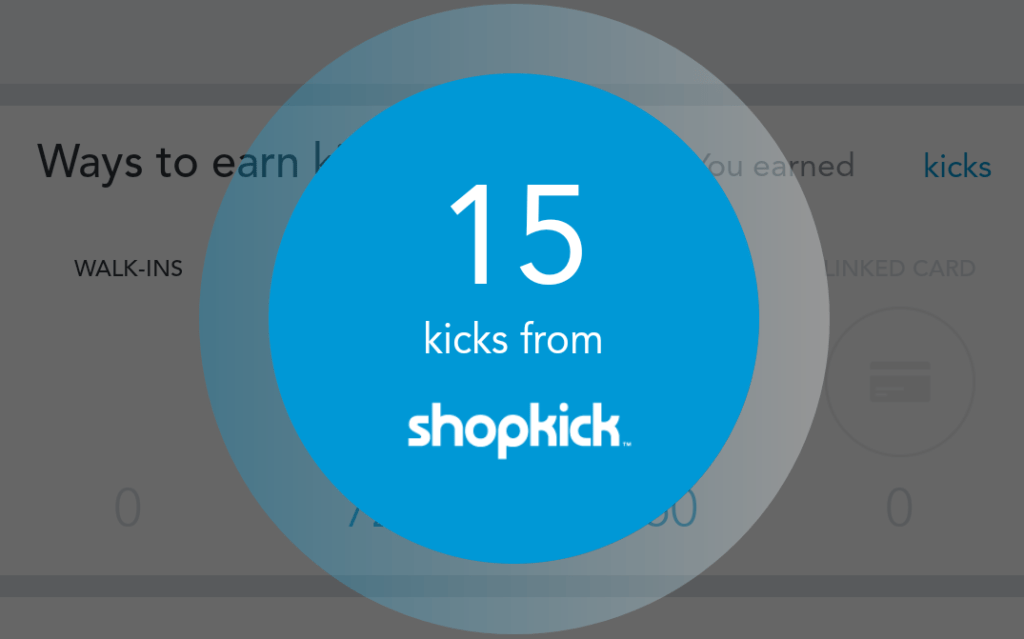 Slow To Earn
Unfortunately, Shopkick is a very slow earner, at least for me. I have my reward set to a $5 Target card, which I've been working towards since August, and I'm only 3/4 of the way there, which is mostly due to a recent single shopping bonus at Walmart. Half the time I forget to open the app for a walk-in, and I don't look for deals I might actually use, like when Maggie and I bought nail polish last month.
Low Point Values
The reason it's such a slow earner is because their points are worth very little. This makes them a poor choice for clicking through to make a purchase online. You'll find much better portals through Cashback Monitor. You may find some sweet spots on Shopkick for in-store deals where you upload a receipt or use a linked card, but definitely stick to using Swagbucks for Best Buy purchases in the store.
Be Patient
So check it out, even if it does earn slowly, there is definite value there, especially if you're patient. By walking in stores, scanning products, and checking out the Discover section, you can be on your way to a shiny new e-gift card, and I guarantee you will look forward to hearing that blinging chime every time you earn your kicks!
Referral
Use the Shopkick link anywhere in this post to sign up using my referral. You'll need to complete your first walk-in or scan within the first 7 days of signing up. That way, you'll earn some bonus points, and so will I!