15/365 This Team Challenge has ended.
A new Monster Mash Team Challenge is starting on Monday at Swagbucks. You can join the challenge now to get on a team. While I don't think the Team Challenges are quite as lucrative as Swago boards, you can win up to 100sb. Unfortunately, if you're on the losing team, you only get 10sb. Those are paid out in the form of a Swag-Up, which is like a rebate when you redeem your SB for gift cards.
You need to contribute at least 600 points to your team in order to qualify for the bonus Swag-Up. I am constantly refreshing my browser page to see how many points I've contributed during a challenge to make sure I hit at least 600. The activities that contribute to your team's score are listed on the team page, and you can click directly from there to participate.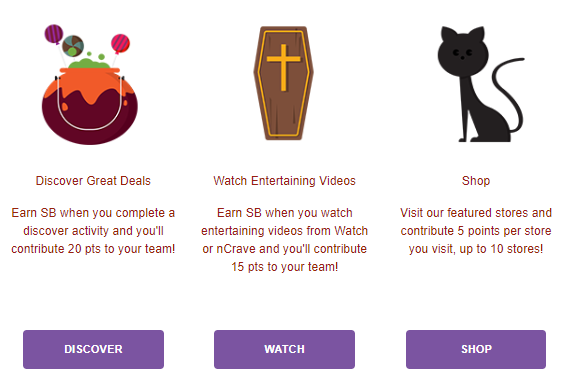 If you haven't signed up for Swagbucks yet, click my link here first. You can either use the links here to find the Team Challenge page, look for the banner above or to the left on the Swagbucks home page, or scroll down to Contests on the left sidebar. Good luck, Teams!
So I am on Team Mummy, while Bryan is on Team Frankenstein. Which team are you on?