274/365
Check your email for a targeted offer from Chase for 500 bonus points when you use Tap to Pay three times before July 31, 2019. This is an easy 500 points, and will help everyone learn how to use Tap to Pay!
The Deal
This is a targeted offer, so check your email using the keywords "Tap to Pay Chase" to see if you are eligible. You don't have to activate the offer, either. Just use the card associated with the email you received and make three purchases of at least $1.75 each to qualify for the 500 bonus points. It may be associated with Freedom, Southwest, and United Chase cards.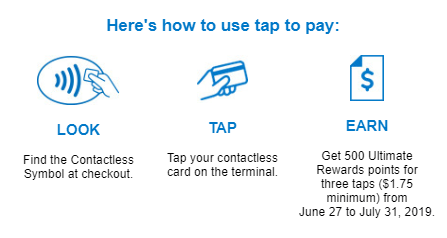 Chase Ultimate Rewards
Since my Freedom card is linked to my premium travel cards, I am earning Ultimate Rewards with it. Click here to read all about how to maximize your earning and develop a travel strategy using Chase Ultimate Rewards. I'm definitely not passing up on 500 free points!
Redeeming
I took my card to Costco and reloaded my Costco Cash card three times with $2.00 each. It was easy peasy, but it did take me a couple of tries to get the hang of tapping, so it's no wonder Chase wants to reward you for testing it out!