Day 108/365
If you are a parent, you know your kids need unstructured play every day, even on a vacation like Disney. We call it getting their energy out or free play or just letting them be kids. Today we look at some places around the Disneyland Resort Parks where you can let them loose, so to speak.
1. Tarzan's Treehouse
The climb to the top of Tarzan's Treehouse in Adventureland is enough to wear anyone out, and the vignettes along the way tell Tarzan's story. The stairways and corridors are very narrow, so be patient if you are moving faster than the group in front of you, or try to move to the side if you are the slower group. You will be rewarded at the bottom with a little area that has lots of interactive props for your child to try.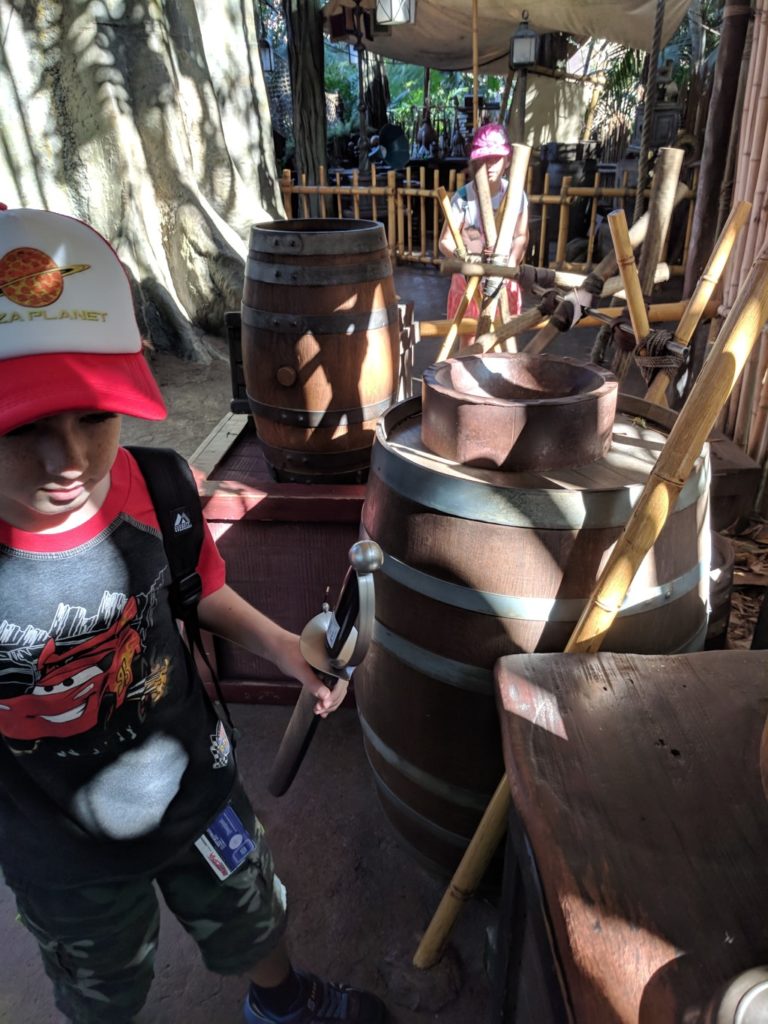 2. Redwood Creek Challenge Trail
Located across from Grizzly River Run in Grizzly Peak, Redwood Creek Challenge Trail has something for all ages and levels. For my kids, I know that if we go in there, we're not leaving for at least an hour. They love to climb, explore, scare each other in the cave, find friends, and just generally let loose. I find a good shady bench and park myself for my own mental break while the kids are playing. There is only one way in and out, so it's easier to monitor if you're looking for a safe place to let the kids have a little bit of unsupervised time, too.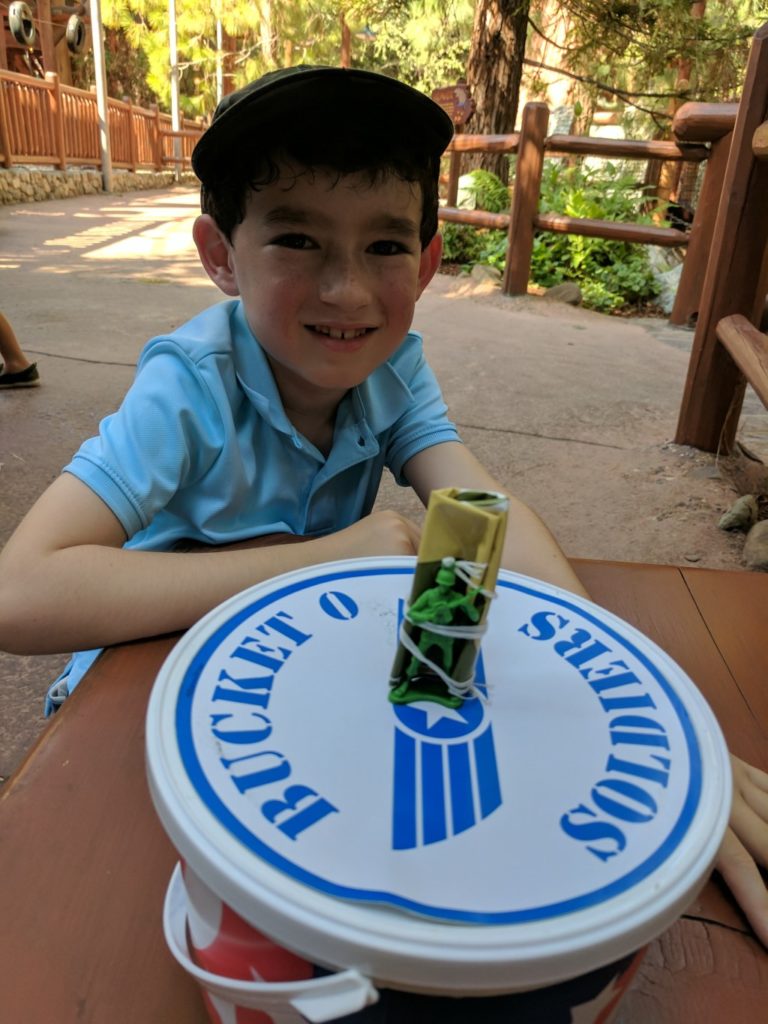 3. Toontown
Toontown at the back of Disneyland has several places for kids to play. There are lots of interactive props next to the entrance to the Roger Rabbit ride. Goofy's House is a great space for little ones to explore, especially in the garden with a little slide and tunnel. Donald's Boat is perfect for older kids with places to climb and discover throughout. There are benches built into the back wall here for a quiet place for parents to retreat. Chip & Dale's Treehouse is a literal up and down stairs, but can be fun. Both Mickey and Minnie's Houses have interactive queues with things to play with throughout.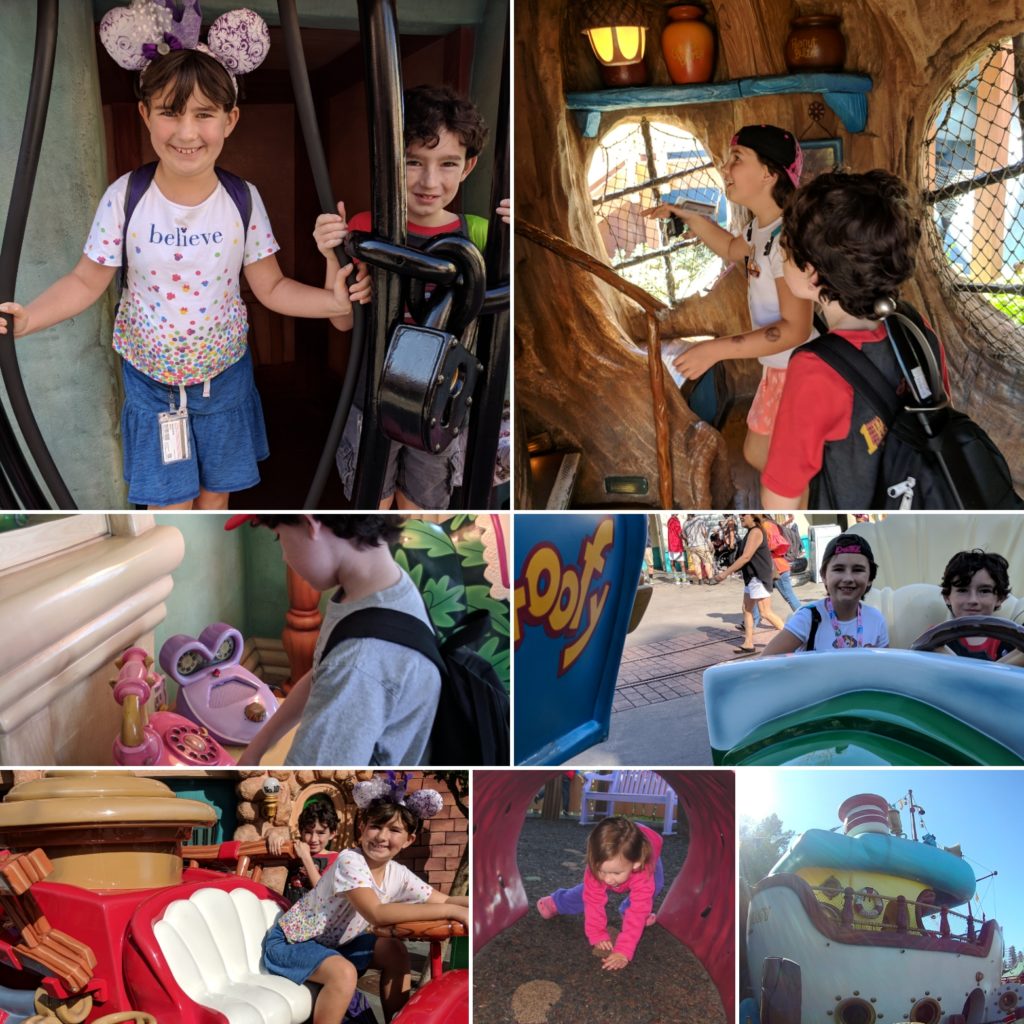 4. Paradise Gardens Park
The space usually reserved for World of Color viewing in California Adventure is relatively empty during the day. Kids have a great time running up and down the steps and around the planters. During the warmer months, the circle in the middle holds a splash pad. It's also a great space for a photo shoot, with Pixar Pier in the background and beautifully landscaped flowers to adorn your photos.

5. Pirate's Lair on Tom Sawyer Island
Parents of very small children may want to avoid this area, as you will be chasing after your little one the entire time. However, this is a great place for older kids to explore, either with you, or if they are old enough, mostly on their own. The caves and paths go this way and that, so either designate a meeting spot or make sure you stay together. The only way to and from this island is taking the rafts from the dock located out in front of the Haunted Mansion.
6. Pixar Ball Fountain
Between the Pixar Pal-a-Round and the Games of Pixar Pier, you can find a giant stone replica of the Pixar Ball on a fountain. The ball is moveable with lots of effort, and kids like to work together to get it going a different way, or just feeling the water on the smooth surface.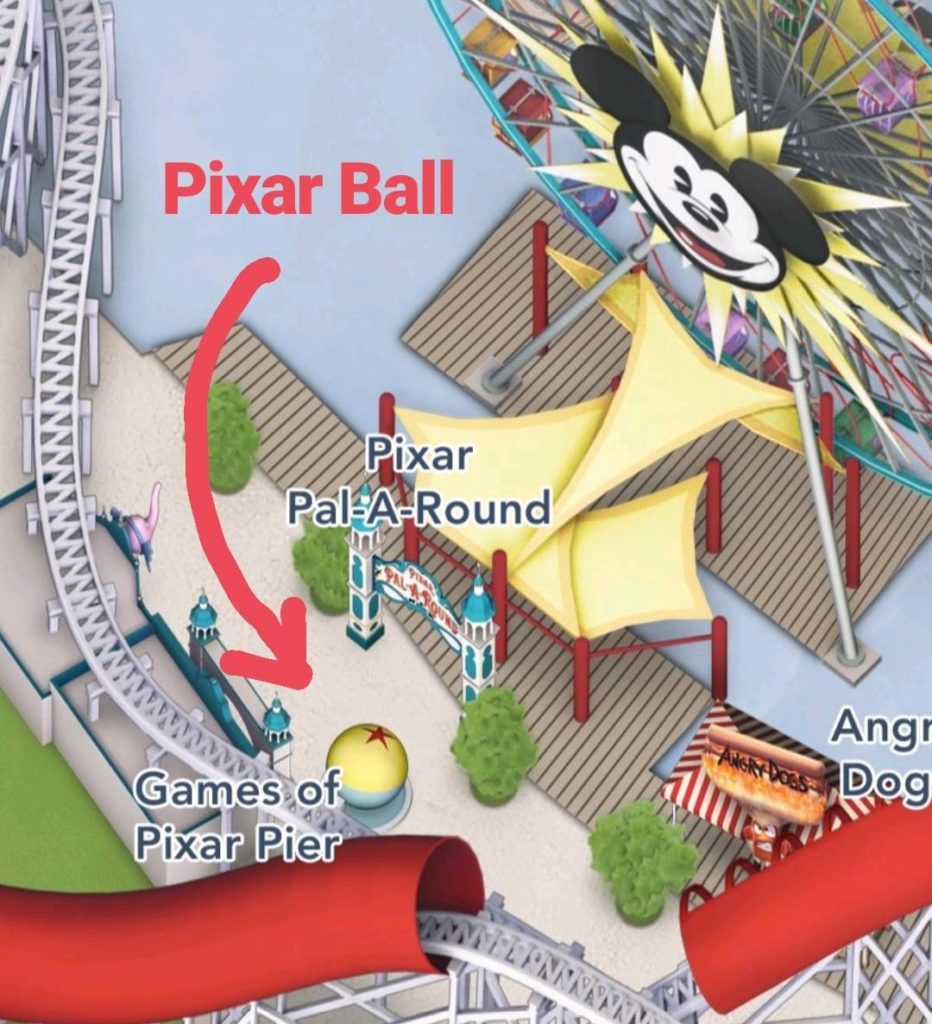 7. Tomorrowland Ball Fountain
The Pixar Ball's twin lives in Disneyland in the plaza outside of Space Mountain. This giant stone ball sits atop a fountain, and is movable on its base. My kids love to try to get it to change direction, enlisting the help of other kids to accomplish this task. Little ones love to feel the cool water on the ball's surface and wonder at its gigantic size.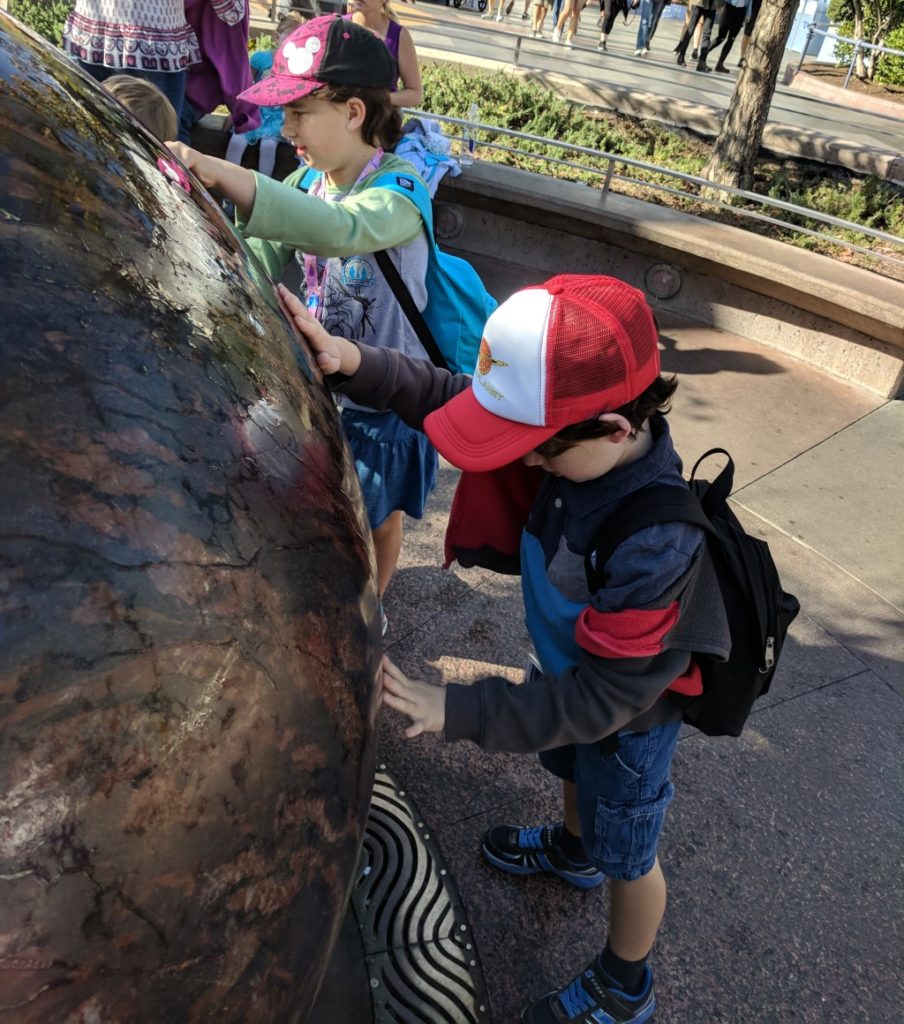 8. Animation Building
The lobby of the Animation Building in Hollywood Land has lots of space for little ones to stretch their legs and comfortable seating for their parents to take a break. There are clips of movies playing and the lighting is dim. Venture into the Sorcerer's Workshop for some interactive play by making an animation strip and discovering which Disney animated character you most resemble. You can also learn how to draw an animated character with instruction from a real animator at Animation Academy.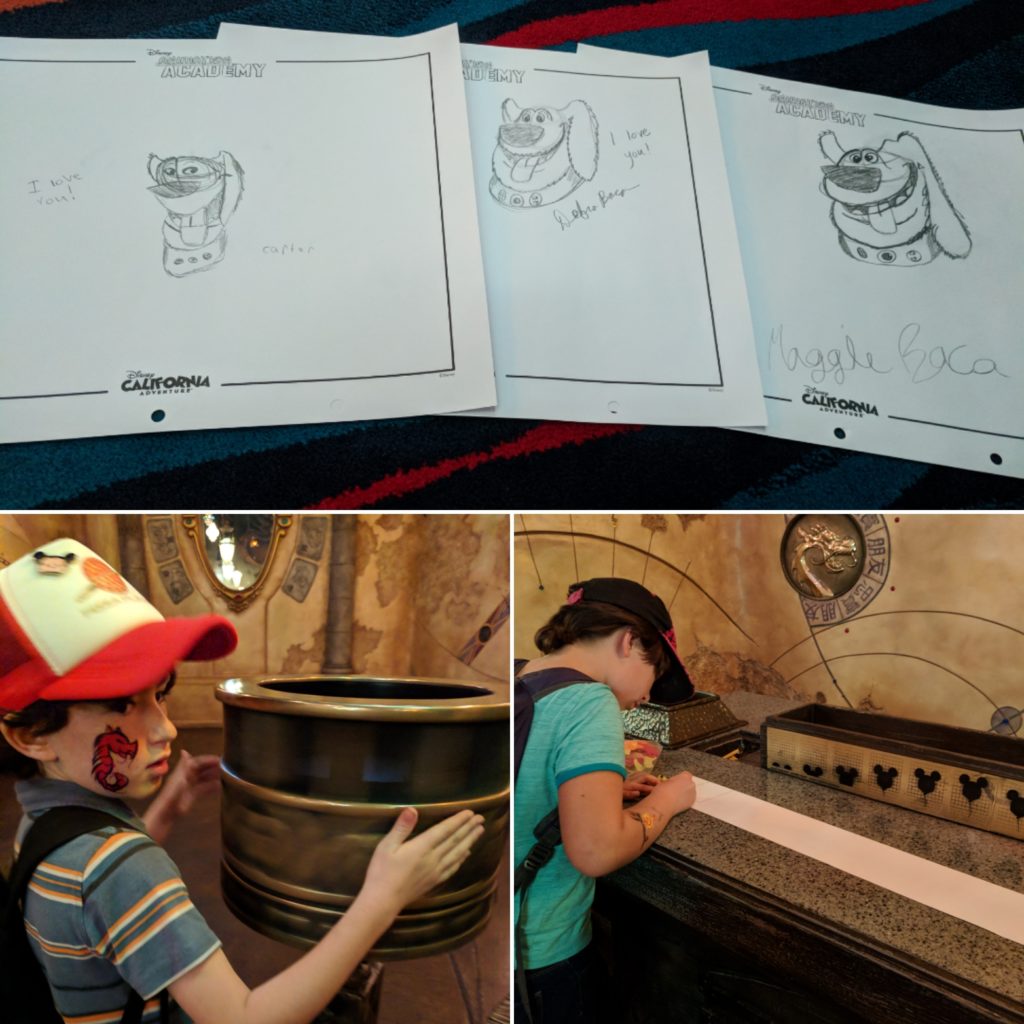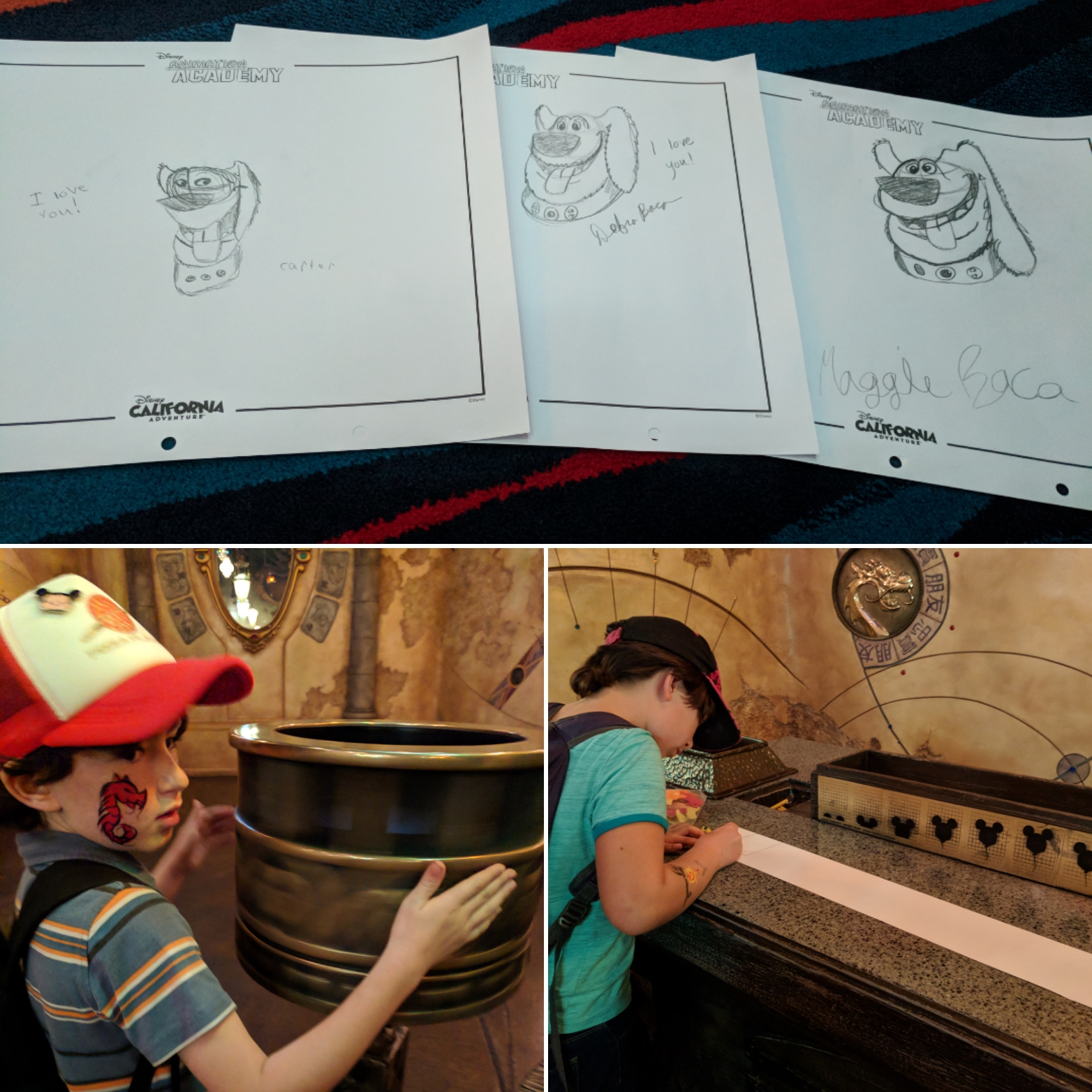 9. Star Wars Launch Bay
If you have a Lego and/or Star Wars fan in your group, check inside the old Innoventions building now holding the Star Wars Launch Bay. Here you will find a room that has Lego Star Wars themed video games and used to have bins and mats of actual Legos for free play. My kids love both types of play, but tend to spend the most time on the video games since they don't have much access to screen time at home.
10. Hungry Bear Area
My kids love to eat in the Hungry Bear seating area in Critter Country. They seem to always find something to occupy their time besides eating their meal. Upstairs affords a great view of the Rivers of America, where you can watch the canoes, rafts, Mark Twain Riverboat, and the Sailing Ship Columbia float by. The train also passes near here, so you can wave to the passengers. Downstairs, there is a small stream that goes by one side, and my kids spent an entire lunch once watching a family of ducks in the water.
Have Fun and Take a Break
The next time you're at the Parks with your kids, find some time to let them play. They'll appreciate the break, and you can find a place to relax for a few minutes. I know I sometimes have a hard time taking that break because I want to get the most out of our days, but trust me, it will do your group a world of good!