Day 4/365
I may earn a bonus reward if you use the referral links contained in this article. Thank you for your support!
With the beginning of the new quarter, it's time to reevaluate what's in our wallets. While it's not what Jennifer Garner or Samuel L. Jackson are looking for, let me walk you through how I decide what credit cards to put at the front of the stack for the majority of our spending.
This is the one card that most of the other card decisions rest upon since it changes every quarter and Ultimate Rewards are so very valuable (when you add a premium card, see below). This quarter (October-December, 2020), the categories are Department Stores, PayPal, and Chase Pay. This won't affect what's in our wallets at all because we don't shop at department stores, and the other two are digital payments. I'll do all of my online shopping with PayPal and use Chase Pay at Best Buy to maximize the Swagbucks deal. Since the Chase Pay app is going away in January, this will be the last time to use it at Best Buy. After that, it will be strictly for online payments.
Which Card For Gas?
I need a new card for gas stations now that Chase Freedom has moved on from gas stations in Q3. My Citi Costco Visa gets 4% cash back at gas stations, their own included, but I'm sure I can find a way to do better, right? I think what I'll do is use one of my Visa gift cards I've gotten at an office supply store for 5x Chase Ultimate Rewards and buy Costco gift cards to use at the pump, since that's where we buy most of our gas. Luckily, there is a great sale on Visa gift cards at both major office supply stores this week!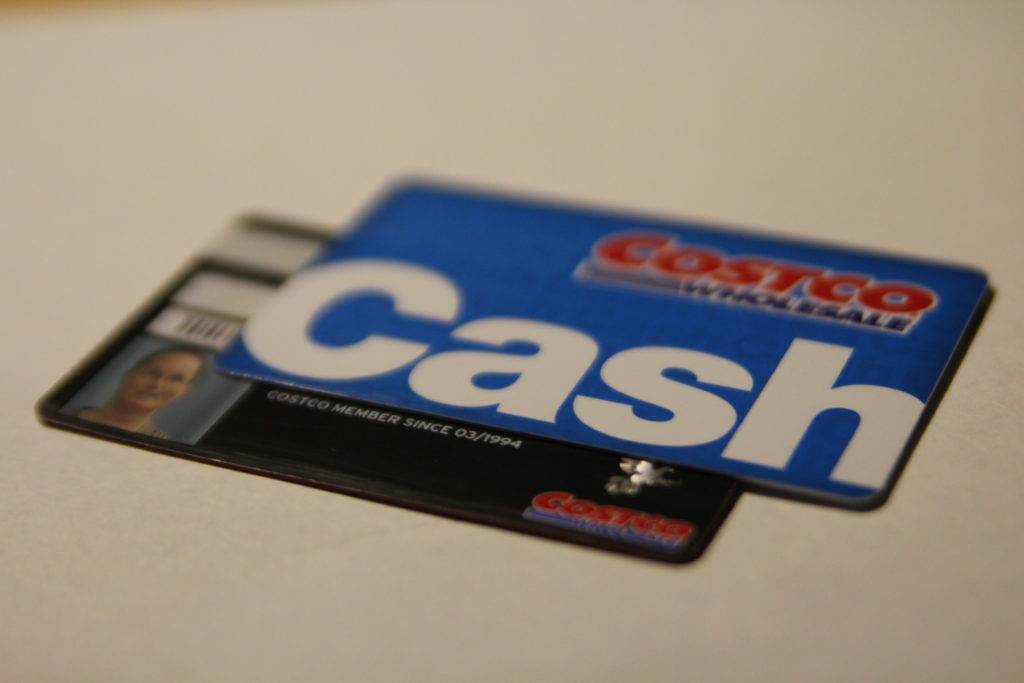 Changing It Up for Restaurants
Last quarter, I realized that I should be pulling out my Citi Prestige for 5x at restaurants instead of using my Chase Sapphire Reserve for 3x. I discovered that I can get great hotel deals on longer trips by using my ThankYou points to book hotels with the 4th night free. While this benefit has changed to only twice per year, it will be a great value when paid with points. I'll have to start racking up the points from restaurants between now and the next time we have a stay where we can use a 4th night free. I am missing all of those Ultimate Rewards points from the Chase Reserve, for sure, but we don't have that much restaurant spend.
Other Cards
For my other spending, I have different cards that serve different purposes. For office supply, I always use our Chase Ink Business Plus that earns 5x Ultimate Rewards. For most all other purchases, I keep a Visa or MasterCard gift card in my wallet that I've purchased at a discount from an office supply store for 5x Ultimate Rewards or at a grocery store for 6% cash back on the American Express Blue Cash Preferred. This is the way I maximize my spending and carry my rewards earning over to purchases that wouldn't normally earn rewards.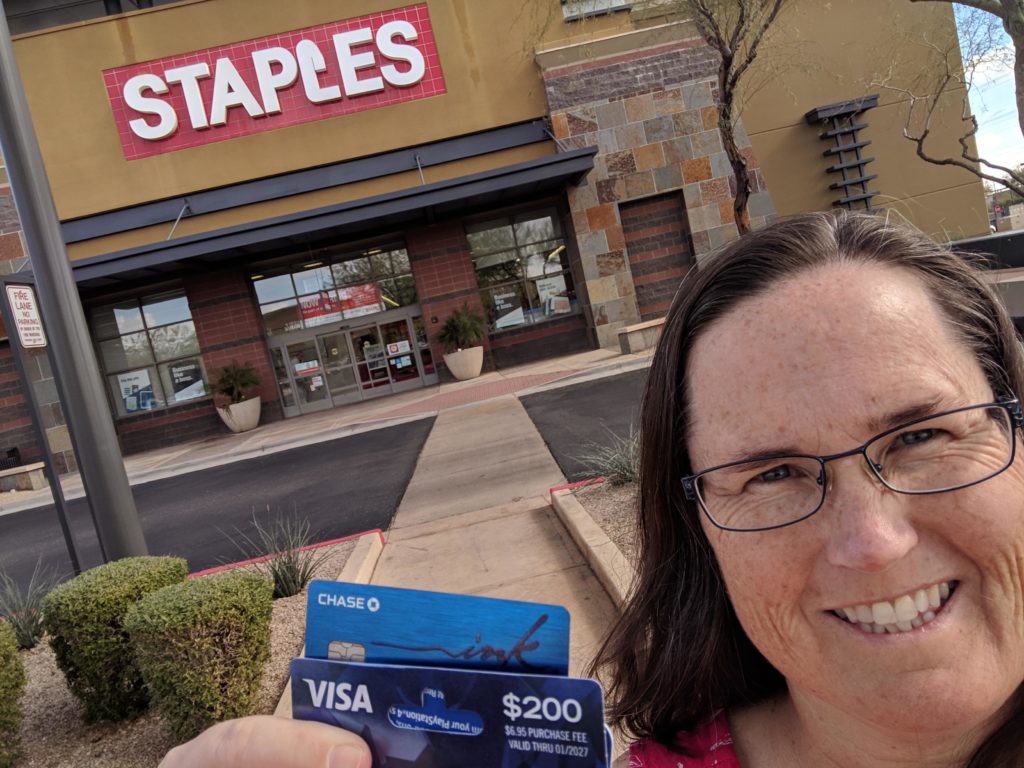 Accessing Ultimate Rewards
In order to make your Chase Freedom work with Ultimate Rewards, you'll need a "premium" Chase card to open that portal and allow transfers between points earning accounts. A good starter card is the Chase Sapphire Preferred. This is the premium card that we use on Bryan's account. It gets 2x on travel and dining, so we don't put much spending on it. It's mostly just a placeholder at this point.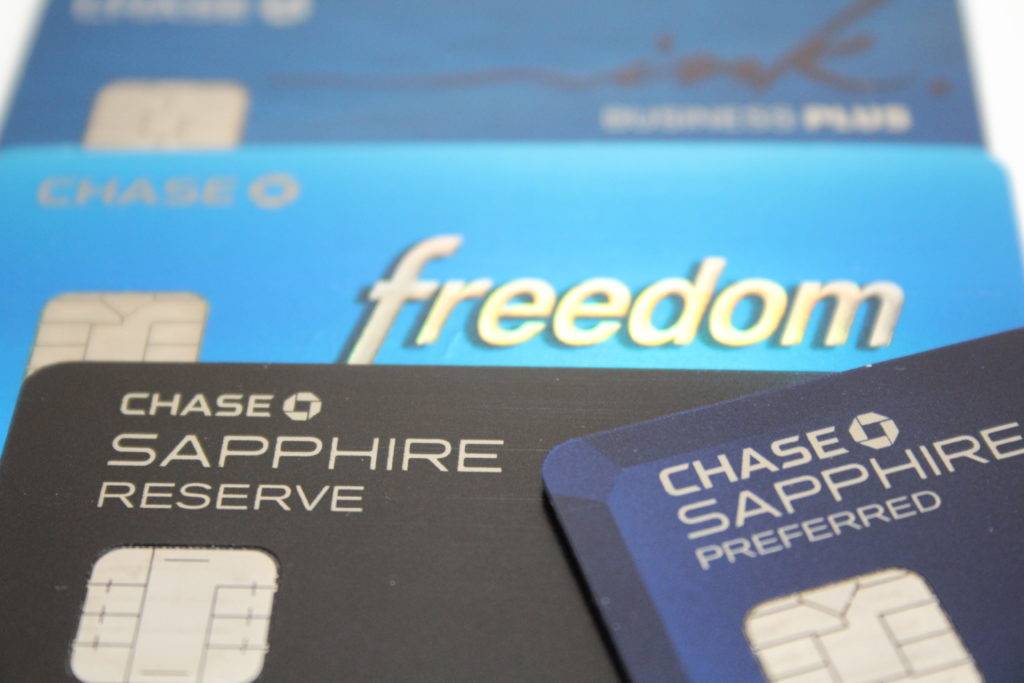 Any of the premium (read: annual fee) Ink Business cards from Chase will also allow you to access Ultimate Rewards. A better strategy here, though would be to get one of the premium business cards for the bonus, and then downgrade it to the Cash version for the 5x earning at office supply stores, paired with a Sapphire product to access Ultimate Rewards. (You can read about maximizing Chase Ultimate Rewards in this article.) Whew! That's complicated!
Simplifying for a Reluctant Spouse
As you can see above, this strategy of maximizing your household spending can become insanely complicated! Some of us may have spouses that are reluctant to have to stop and think (or worse, pull out a cheat sheet) every time they go to checkout. After a couple of years of trying to get my husband to know which cards were which, he bought a new wallet for himself that only holds two credit cards. Message received! Since most of his purchases are at the grocery store, I limit his wallet to a grocery card and an everything else card. Currently, the two cards in his wallet are the American Express Blue Cash Preferred for groceries and Chase Sapphire Preferred for everything else. I would rather he carry the more valuable Chase Sapphire Reserve like I do, but authorized users cost $75 per year, and his spending probably wouldn't add up to that much in points. The same goes for the $50 annual fee for adding him to my Citi Prestige.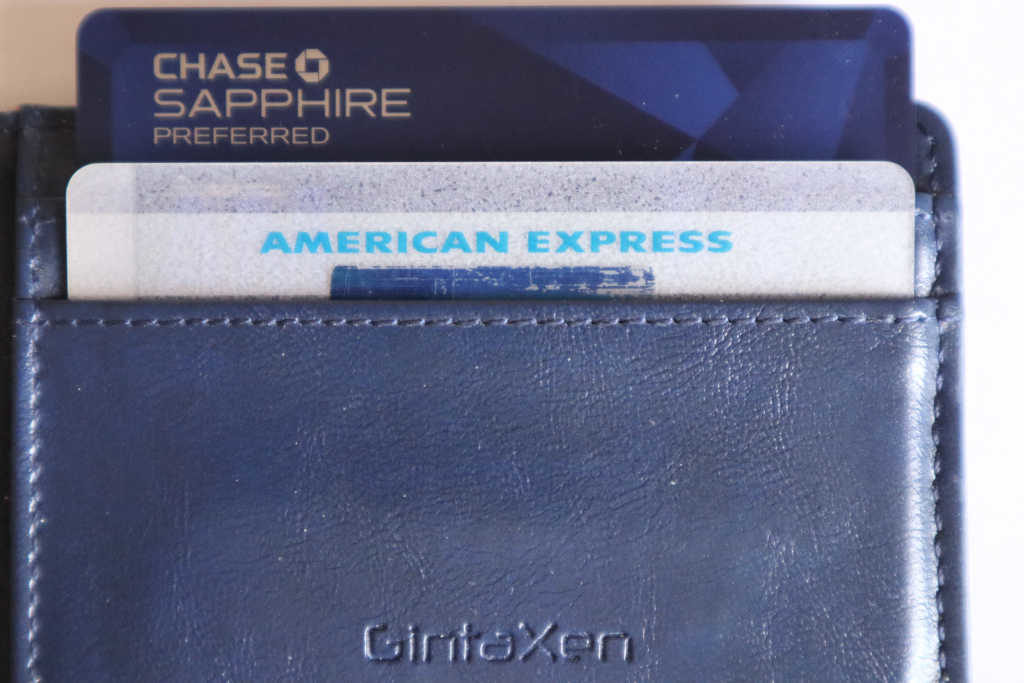 What's in Your Wallet?
This quarter, there's not much actual shuffling going on. Bryan will keep his American Express Blue Cash Preferred and Chase Sapphire Preferred, and I'll use a Visa gift card to add some cash to my Costco gift card to use at the pump for gas. Otherwise, I'll be sure to add my Chase Freedom to PayPal, and stop by Best Buy to pick up some Disney gift cards with the Chase Pay app while I still can!