Day 27/365
One of the ways I earn money for travel, specifically Disney travel, is through Swagbucks. Swagbucks is a rewards program that pays you for all different kinds of online activities. You can play games, use their search bar, find Swag Codes, answer surveys, watch videos, click through their site to shop online, and discover offers. You can cash out your rewards (called SBs) for gift cards, virtual Visa cards, or even PayPal. I like to shoot for $50 per month between mine and my husband's account, and lately my favorite reward is a virtual Visa since it is offered for a discounted number of SBs once per month.
Swagbucks LIVE
Swagbucks LIVE is an app that allows you to play a live trivia game on weekdays to win SB. Monday through Thursday, games are at 5pm pacific time, with a bonus game on Monday at 4pm. I've only won a handful of times, but it's fun to play, and you can earn bonus SB for questions you get right, even if you don't answer them all correctly. Every so often, they'll have "easy" games (the only ones I've won) or themed games, which are extra fun.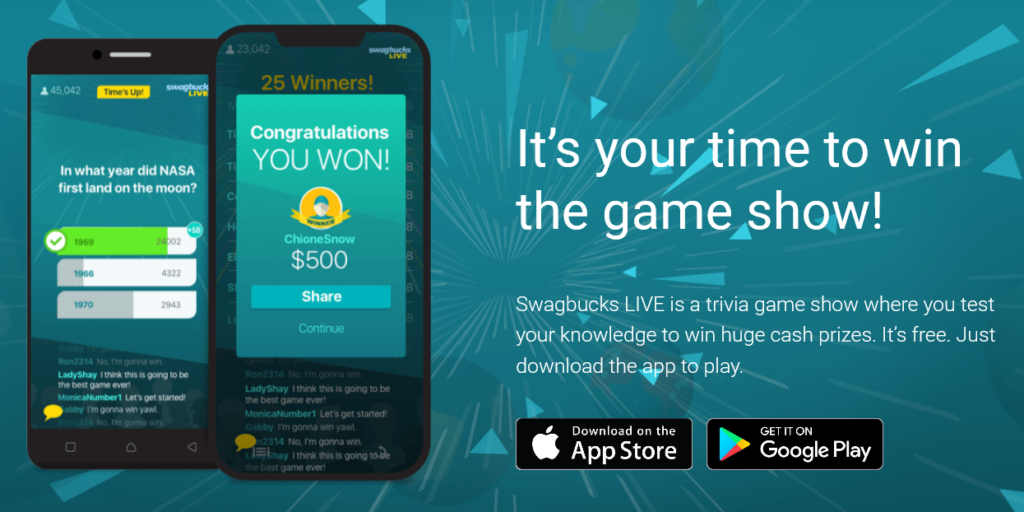 Answer
Answer on Swagbucks is basically surveys which can have a good payout, but I find them tedious and usually only do them when I need a boost in SBs, or it's a square on my SWAGO board. Swagbucks keeps track of some of your answers, especially demographics, so make sure you're consistent or they won't allow you to use this feature. They even have an app dedicated to surveys called Answer.
Search
This is an easy way to earn SB. Anytime you need to search for something on the Internet, just use the Swagbucks search bar. You can even set Swagbucks to be your homepage so that the search page comes up when you open a new tab. Or better yet, install the SwagButton to your browser. It keeps the Search, Swag Codes, Watch, and Shop functions handy at the top of your browser. Search wins are hit and miss, but you can earn up to 100 SB on a win!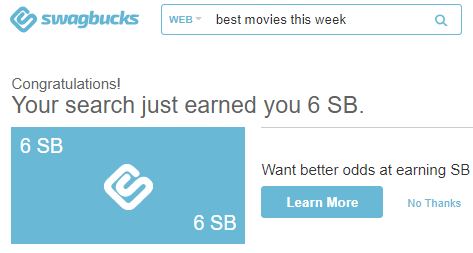 Team Challenge
Team Challenges have become increasingly more difficult over time. These are not as rewarding as SWAGO, but I still play anyway. At the beginning of the game, you are assigned to a team. Most of the activities you do on Swagbucks will earn points for your team, and you have to earn a certain number of points, 600 at this time, to qualify for the payout. The payouts are graded by 1st, 2nd, 3rd, & 4th place, and are in the form of a SwagUp. Most SwagUps are bonuses that are paid out when you redeem your SB for a reward like a gift card or PayPal. Normally, I only cash out once a month because they offer your first $25 reward for a discounted number of SB, but when I have a SwagUp that will expire soon, I will cash out mid month for a smaller reward, like a $3 Amazon card, etc.
Swag Codes
Swagbucks likes to put out codes to direct your attention to a special offer or bonus. When you find a code, you can enter it in the Swag Code box to redeem it for a few SB. Every so often, they'll do a whole day of Swag Codes with a new one every two hours. Lately, Swag Codes can only be redeemed via the Swag Button or Swag app, so you have to have one or both of these things to redeem the code. Sometimes Swagbucks will alert you to a new Swag Code, but sometimes you don't get the message until too late. I like to use a service like Swag Code Spoiler to let me know right away that a Swag Code is active. Swag codes are different for other countries, so make sure you are clicking on the right one in the swag code spoiler feed.
Watch
This method is my mainstay for earning SB. I have an old phone constantly running the Swagbucks Watch apps: Lifestylz, IndyMusic, MovieCli.ps, EntertaiNow, SBTV, and Sportly. The Swagbucks app also has videos to watch. For every so many videos you watch, you get rewarded with so many SBs. This is something that I can just leave running, and it earns while I'm doing other things, even sleeping! There are desktop videos in the Watch section of the website, some of which can run in the background or on a different browser, even without much interaction from you so you can earn effortlessly.
Coupons
Swagbucks partners with coupons.com to allow you to print coupons from your computer. There are hundreds of coupons, most of them ones you probably wouldn't use. However, you can select the number you need to get the bonus for printing, and set your printer to go to a PDF instead of wasting ink and paper. I usually find a couple of coupons that I can actually use in the store, and Swagbucks will pay 25 SB for every coupon you redeem.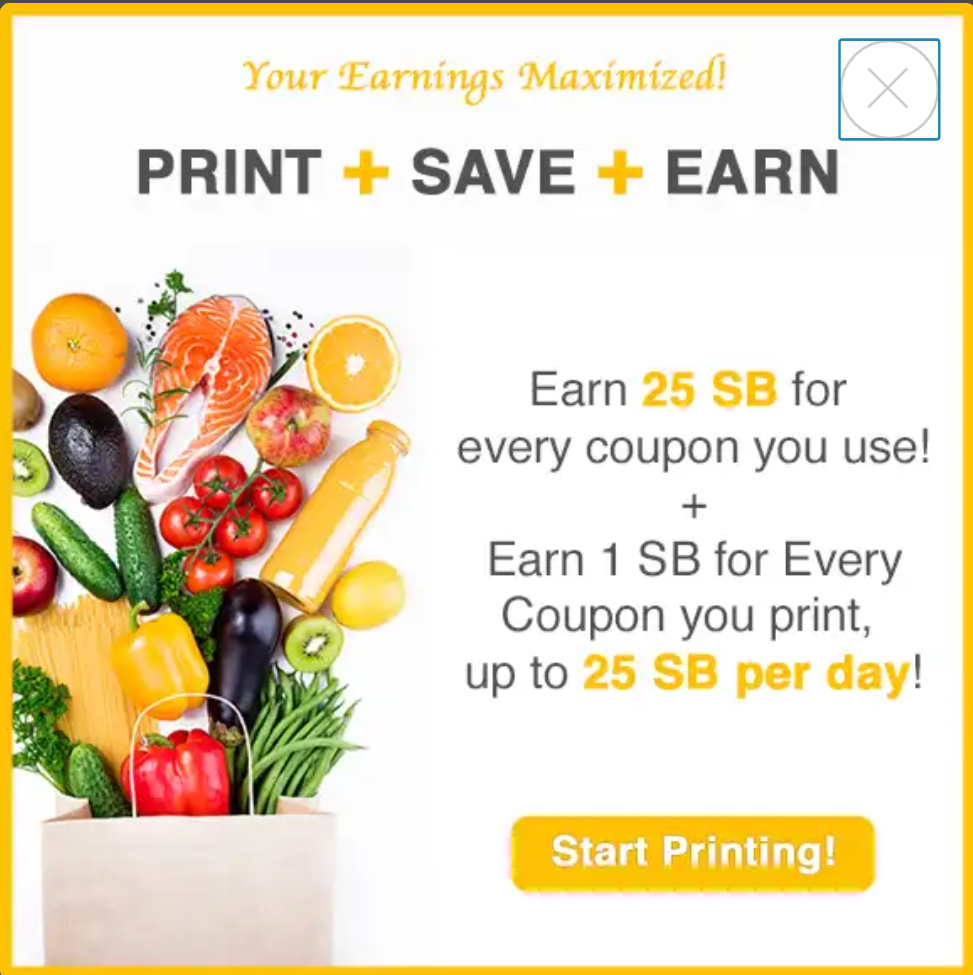 Shop
This is a category that can really pay out big for shopping online or even in stores. There are probably hundreds of shopping portals out there, some of them are easier to use than others. Also, some of them pay out bigger than others. I always go to CashBackMonitor.com to compare shopping portals. Some of the ones I regularly use are TopCashBack, Giving Assistant, Ebates (you've seen their commercial on TV), and of course, Swagbucks. Basically the way it works is that you go to one of these shopping portals before you shop anywhere online. Then you click through their site to begin your shopping trip. They get paid by the site for the referral and pass some of the benefit on to you. If you forget to go through a portal, make sure you take anything you've already put in your cart out and start your shopping over or you may not get credit. Lately, my favorite Swagbucks shopping bonus is in-store for Best Buy, which I have detailed here.
Play
If you already play desktop games, you might as well look through the games under the Play section to see if any might earn you SB. I have played Swagasaurus Run, Swag Jump, and Swag Memory, but it's a time drain and doesn't pay out every time.
Discover
I have a real love-hate relationship with the Discover section of Swagbucks. Some of the offers seem too good to be true. Others require you to sign up for something with a credit card on file so that they can bill you after the free trial period, which is very risky if you don't cancel in time, or require that you call in to cancel. There are a few good offers that allow you to earn SB without the risk or too much trouble, or ones you can really use.
SWAGO
This is a BINGO type game that Swagbucks holds at least once a month. Some of the squares are easy to complete, like clicking through a shop or completing an activity. Others are more complicated, like finding an offer on Discover that will actually credit within the time frame of the SWAGO board. Some squares are worth more than others, like buying a gift card, which is strategically located in the middle square. Every other SWAGO board has a Spin & Win feature attached. It took me a time or two to realize that I should complete as many squares as possible BEFORE submitting the board so that I can take more spins. Spins will earn you bonuses on surveys and search wins, free rejoins on Swagbucks LIVE, and simply more SBs.
Using Swagbucks for Disney
So you might be wondering how I use this system for Disney. Basically, I just keep track of what I earn with Swagbucks, and use the gift cards or virtual Visas for our regular budget. Virtual Visas are great for things I pay online, like the water bill. We keep a gift card balance on Amazon for shopping there, and I usually use gift cards for shopping at Target. Then, when I find a good deal on Disney gift cards, like the Best Buy trick I mentioned above, or 4x gas rewards at the grocery store, I note how much I earned through Swagbucks to put towards the purchase. I keep track all of these transactions in a spreadsheet in order to calculate my savings percentage for each trip. Some trips, I've earned as much as 58% of my Disney gift card balance from Swagbucks and other "free" methods!
Referral
So if you click on one of the referral links in this post, you can sign up for Swagbucks, too. I will get a referral bonus, and you will get a sign-up bonus. Win-win!