Day 54/365
Through the Thanksgiving holiday weekend (and beyond), you can see a movie for less with Chase Pay and Atom. Read on to find out how to claim this deal and maximize your spending with Chase at the same time.
The Deal
Through Sunday, December 1, 2019, you can get $7 off one order with Atom Tickets by paying with Chase Pay. If you don't plan to see any movies this weekend or next, you could buy your tickets to an upcoming movie. Just be sure to make your purchase before 12/1/2019.
Paying for Convenience
Ever since our local movie theater went to reserved seating, the days of walking up to the box office to buy a ticket to the next showing are gone. Now, it's a good idea to buy tickets ahead of time to make sure you get a good seat. The easiest way is to purchase them ahead of time online. However, there are always "convenience" fees added with this method. Well, yes, it is more convenient to buy it ahead of time online, however, I will go out of my way to avoid paying more, even if that means braving traffic to stop by the theater in the mega shopping corridor to buy them in person at the box office ahead of time. That's why it's nice when I can enjoy the convenience of the online order without the added fees with a deal like this one.
Chase Pay with Freedom
Chase Pay is a 5% bonus category this quarter with Chase Freedom, so make sure you select your Freedom card as the primary card in Chase Pay. You'll need to do this before you check out on Atom. When you select Chase Pay in the Atom app or on your mobile browser (which now includes Chase Pay as an option, just not the desktop browser), make sure that the last four digits of your Freedom card are showing at checkout. You should also see the $7 discount reflected in the subtotal once you select Chase Pay as your payment option.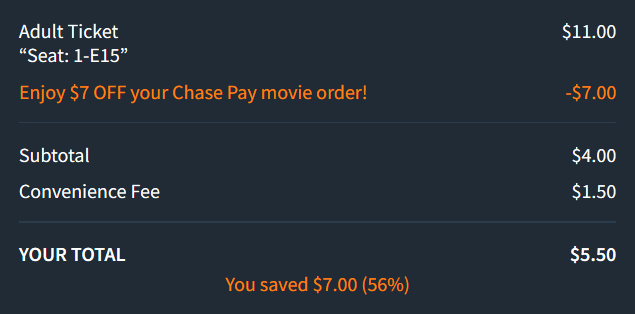 Doesn't Stack with Frozen 2 DMI Deal
I tried six ways to Sunday, but couldn't get the Disney Movie Insiders website to trigger the Chase Pay $7 discount along with the waived convenience fees from DMI for Frozen 2. I guess if you still need your Frozen 2 tickets, you'll have to decide which discount is better for you: no convenience fees or $7 off. Unless you're buying a whole lot of tickets, or you have another movie to buy as well, $7 off is the better deal.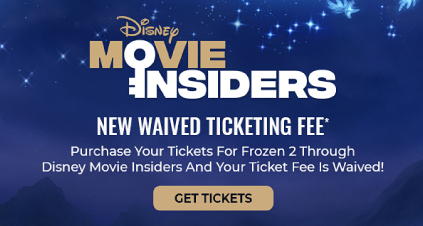 Which Movie?
Since we already have our Frozen 2 and Star Wars: the Rise of Skywalker tickets purchased, I'm not sure which movie I'm going to use for this deal. Bryan and I don't need to reserve our seats ahead of time when we see a movie together since we go during the day, but it is really convenient to do so for our Disney gang and whenever super popular movies come out. I suppose I could wait until December 1 to see if we have a need for it, and then book something for the next couple of weeks if we don't end up seeing a movie Thanksgiving weekend.
What movie are you going to see with your discount?