Day 9/365
Go over to Swagbucks today to join the October Swago! You can find it on the left side menu under Promotions. Yet again, there is no Spin & Win, and they have some new squares in play this month.
Playing Swago
Swago is like the game Bingo, with squares to complete. Each square is a different activity on Swagbucks. Once you complete the square, it will color in as soon as you refresh your browser. If you look along the right side of the board, you can see which pattern you would like to complete. Don't submit until you are ready because you can only submit once! You'll have over a week since the board will be active from midnight tonight until 11:59pm on Monday, October 14, 2019.
Swago Board
Sometimes they make the center square easier since you can get any gift card from MyGiftCardsPlus instead of at least $50. (Although the minimum they sell is still $25.) We will have to wait until tomorrow to see if there is a minimum this month. Be sure to get your gift card early if you are going to complete that square since the transaction may take up to two days to process.
Buy SB
Another interesting addition to the Swago board is the Buy SB card, which first showed up in June. I was wondering why I could not complete this activity, and I finally found the answer after a quick Google search:
Purchasing SB is currently limited to residents in the United States. However, residents of AZ, CT, MD, and ND are not allowed to make SB purchases due to applicable state law.

Swagbucks Help Center
Kinda makes it a little frustrating that they would put that square on the board if people in four states cannot complete it! Not to mention the fact that four states have deemed it unethical enough to outlaw the practice in their state. There's no mention of it in the blog post, so maybe they've taken it off the board.
In-Store Promotions
Swagbucks has added a new layer to their Shop component. While the main focus of Shop is to click through to stores, they recently added the ability to earn SB by uploading receipts on the Answer app. Now, you can also earn SB by purchasing items you add from a list at specific stores and upload your receipt in order to redeem them. Swagbucks touts that you can redeem hundreds of items at your favorite stores, but I literally had 30 items on my list in August, and this month that number is up to 46. I like that they added a few any brand items like yogurt and toothpaste. We do buy yogurt, and we buy it at Costco, which is actually on the list this time.
Three New Squares
Swagbucks loves to add new features of their site to Swago to give members an incentive to try them out. This month, the new features include linking a credit card to your In-Store Cash Back wallet, using the In-Store Cash Back feature, and joining the Member Recognition Program.
In-Store Cash Back
I was confused at first, because Swagbucks already has a cash back program with SB Local, but I guess this is a different system because you have to link your card separately from SB Local and add each offer before you use it. This new system feels a lot like Rakuten's in-store cash back offers where you have to link each offer to your account rather than just link the card you use to purchase items at the store. One square on the Swago board is for linking a credit card to your wallet, and the other is to actually make a purchase and redeem an offer. Since things like that can take a few days to credit, you definitely need to do this early in the week.
Member Recognition Program
If you haven't signed up for the Member Recognition Program, what are you waiting for? I wrote in depth about this program back in April, so click here to read that article. There's no reason NOT to join. You can get some nice perks at every level, and it just gives you that extra motivation to reach the next level more quickly!

Featured Squares
There are other squares which will require you to download an app to complete. Swagbucks LIVE is a trivia game that's played Monday-Thursday at 5pm PST, with a bonus game at 4pm on Mondays. You don't have to win Swagbucks LIVE in order to complete this square, you just have to earn bonus SB attached to most questions and claim them at the end of the game. You'll also need the Answer app, which is a survey app. Usually, there are at least two squares that require this app, so you might want to download it. I keep apps like this on old devices so that I don't have to keep them on my phone and clutter it up.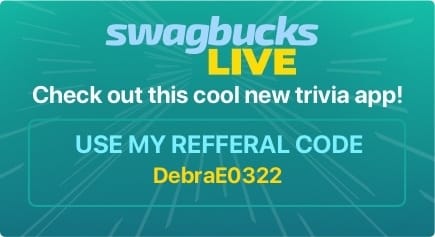 No Spin & Win
I am really missing Spin & Win! There were so many great prizes on the wheel like free rejoins for Swagbucks LIVE, bonus surveys, Swag Ups on redemptions, and just plain old bonus SB. They really teased us by bringing it back in June and then taking it away again!
Join Swagbucks!
If you click on one of the referral links in this post, you can sign up for Swagbucks, too. I will get a referral bonus, and you will get a sign-up bonus. Win-win!
You Can Get Free Gift Cards For Shopping, Searching and Discovering What's Online at Swagbucks.com