287/365
I have an offer that pops up on my desktop when I open the Swagbucks website: get 500 SB when you spend $5 through Swagbucks Shop. Let's dive into this offer!
Free $5 Worth of Something
Essentially, this is a free offer just for going through Swagbucks to shop. I had some online shopping to do last week, so I wish I would have seen this offer before I went through TopCashBack instead of Swagbucks for at one of those three transactions. However, the timing may have been off anyway since I'm not sure when this offer first appeared in my account, and TopCashBack was paying much higher than Swagbucks.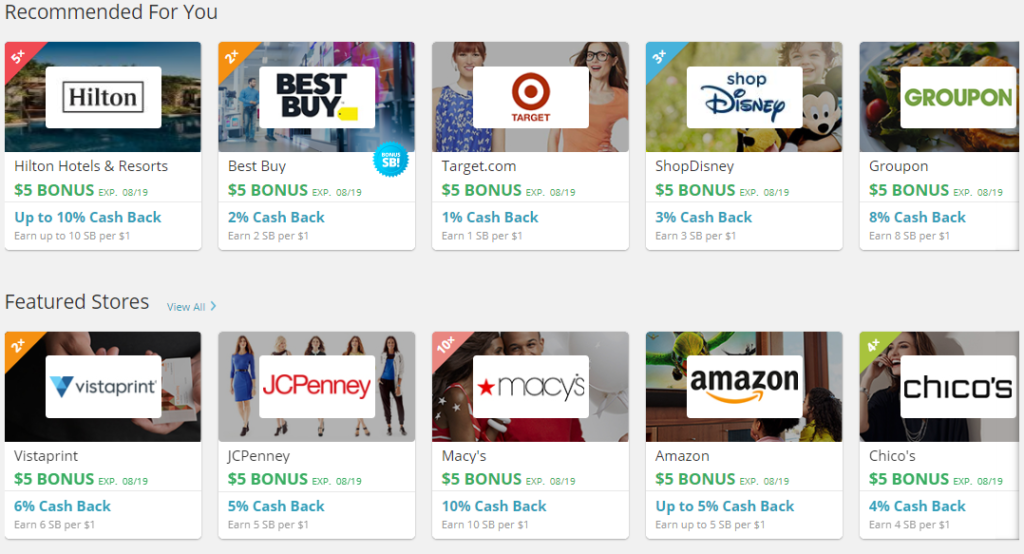 Targeted Offer
I was excited to double my earnings and have my husband do this deal on his account, too. However, it must be targeted because while he had a survey bonus, he did not have this Shop bonus. The banner suggests finding it in your Swag Ups ledger, so check there if you are not sure whether you have it or not.
Disney Gift Cards at Best Buy
I haven't done the Swagbucks-Best Buy-Disney Gift Card deal in quite awhile, so I think this is where I will concentrate my efforts since I don't have any online transactions coming up at the moment. With this strategy, I can earn 2 SB per dollar, plus a 750 SB bonus on $100+, and then the 500 SB in this deal. I've gotten as high as 5 SB per dollar at Best Buy, so the cash back rate is not the best, but it's better than nothing. Since I don't have any credit cards that get category rewards at Best Buy, I'll use one of my Visa gift cards I've gotten 5x Ultimate Rewards on at an office supply store with my Chase Ink Business Plus card, which is not available, but you could apply for the Chase Ink Business Preferred and then downgrade to the Chase Ink Business Cash for 5x rewards at office supply stores, so long as you have another Ultimate Rewards earner card like the Chase Sapphire Preferred.
Savings Breakdown
With this deal, I'll earn a 750 SB bonus, plus 200 SB in Shop, plus the 500 SB Summer Sale bonus. That's 1450 in SB, or $14.50 in cash. (Although I usually cash out for a $25 virtual Visa which only costs 2175 SB, so 1450 SB is really worth around $16.75 to me.) Then there's the 500 Chase Ultimate Rewards I earned when I bought the Visa gift card. Again, Ultimate Rewards are worth much more than face value, but even if redeemed for cash at $5, I've now saved $21.75 on an $100 gift card, which is almost 22% savings! I've been waiting to resume restocking my Disney gift card supply so that when a good opportunity like this comes along, I can snag it while it's hot!
Join Swagbucks!
If you haven't joined Swagbucks, please use my referral link on the banner below. I sincerely appreciate it!
You Can Get Free Gift Cards For Shopping, Searching and Discovering What's Online at Swagbucks.com