288/365
Swagbucks has been super quiet for the past two weeks with no Team Challenges or Swagos. This week, however, they are making up for it by having their "biggest week yet!" Let's take a look at what they have in store for us starting on Monday.
Prime Day Deals
Amazon is having a huge sale on Monday and Tuesday, so Swagbucks is jumping on the Prime Days bandwagon. Not only will they have big deals for click-throughs to Amazon, they'll have up to 15% cashback at other stores as well. Yesterday, I wrote about my $5 back in the Swagbucks Shop. I'm definitely waiting to see if they raise the cashback percentage for Best Buy on Prime Day.
Sushi Team Challenge
Starting now, you can join the next Team Challenge on Swagbucks. I'm on Team Wasabi! You need to earn at least 600 points for your team in order to partake of the winnings. I usually just keep a browser window open to the team page and refresh throughout the week until I reach the 600 point mark. You can earn points by playing Swagbucks LIVE, redeeming Swag Codes, watching videos, discovering offers, and taking surveys. For an easy 50 points, you just have to click through to 10 stores in the "Featured" section on the Shop page. Check below for all of the activities that earn points for your team.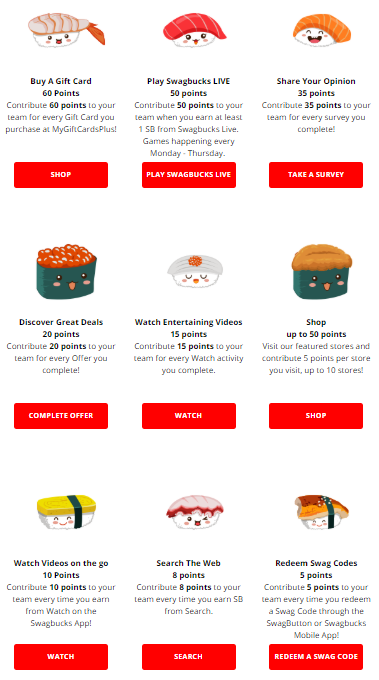 This week, Swagbucks LIVE, the app-based trivia game, will be Disney-themed for all five games. You can see the line-up of topics below. I can't wait for Wednesday's game, but I probably won't do too well on Tuesday's game since I know next to nothing about Disney Channel shows. Last week, I won three whole games! Either it was easier, or they just happened to ask questions I knew the answer to! Granted, I won the first three games of the week, and the games get tougher as the week progresses. Download the app here and use code DebraE0322 to sign up. For each game you play this week, you can add 50 points to your total in the Sushi Team Challenge. That's 250 of the 600 points you need right there!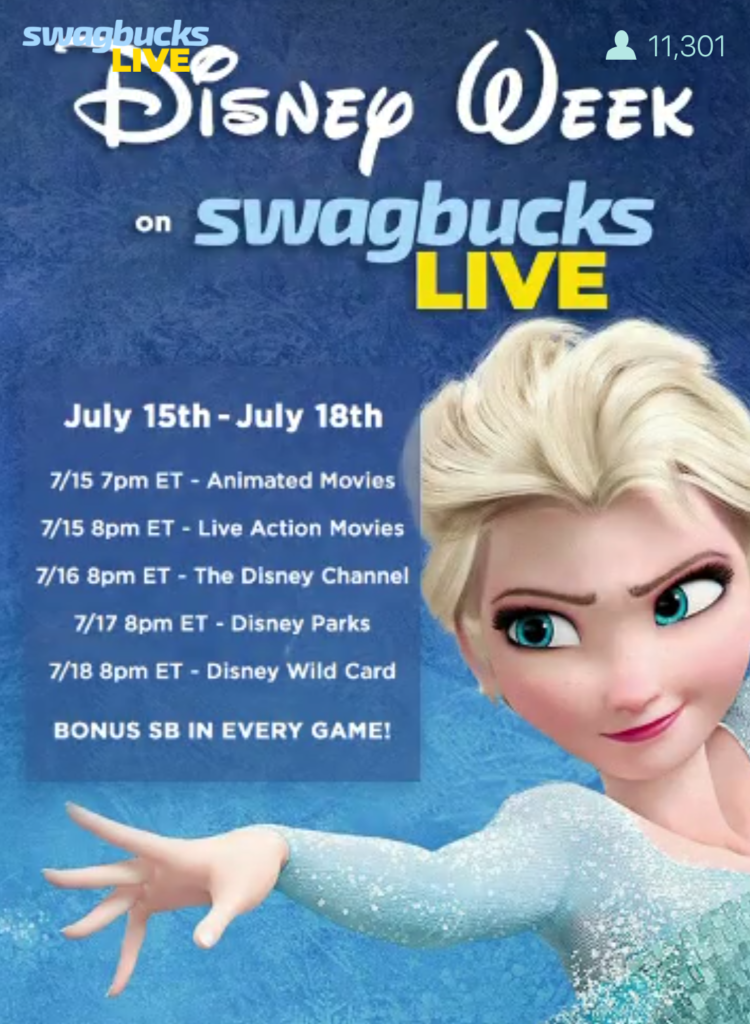 Magical Matchup
The last event this week at Swagbucks is just for fun. Over on the Swagbucks Instagram page, you can vote for your favorite Disney vs. Pixar movie until the ultimate winner is chosen. I know I'll be weighing in on this one!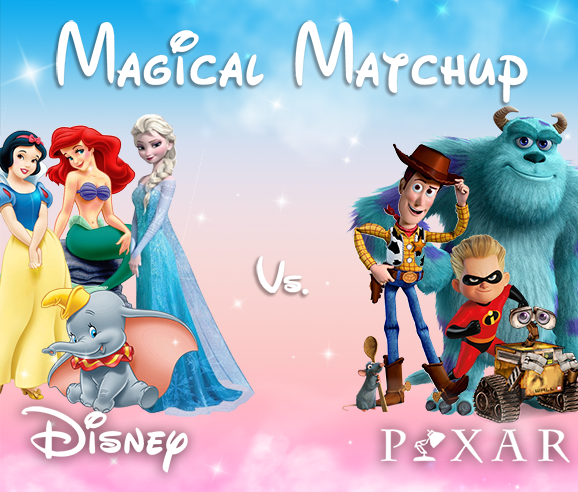 Join Swagbucks, Already!
If you haven't joined Swagbucks, please use my referral link on the banner below or any of the links in this article. I sincerely appreciate it!
You Can Get Free Gift Cards For Shopping, Searching and Discovering What's Online at Swagbucks.com