Day 15/365
Rakuten (formerly Ebates) is having a one-day sale at many popular online stores with 12% back to celebrate National Savings Day.
How It Works
Just sign up for Rakuten here. Once you join and make a purchase of at least $25, you will get a $10 bonus! I will also get a bonus for referring you to their site. Whenever you intend to make a purchase online, check how much Rakuten is paying in cash back for that site. (I always like to check Cashback Monitor first to see if any other click-through portal is paying more.) When you are ready to shop, click on the store's page from Rakuten or whichever click-through portal is paying the most. They will record your click and any purchase you make on the site. Be sure to click through before you put anything in your cart, and click through again if you don't buy anything for more than a day, or if you make more than one transaction.
Stacking Offers
It's so great when you can stack offers even further.
Get cash back through an online portal like Rakuten.
Use a discount code from the shop's site.
Get cash back from an offer on your credit card.
Earn rewards from online stores.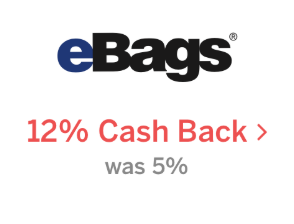 Stacking Example
eBags is one of those stores where you can easily stack offers in different arenas. Amex Offers frequently has deals through your credit card, plus a click-through portal, then a discount code, plus eBags Rewards. It all adds up to you not paying as much for the things you need!