247/365
Several months ago, I posted about the SHOP, PLAY, WIN game from Safeway. I wasn't overly thrilled that the game had started, but I was going to participate anyway, kicking and screaming if necessary. Let's see how I did overall.
Keeping Up with the Game Pieces
At first, I was good at keeping up with the opening, scanning, and sorting of game pieces. Maggie was helping, but she would leave a task off in the middle, so I took back over. I kept a box on my desk, and labeled each pile with a sticky tab. I even put coupons for free things in my purse so that I would redeem them as I received them instead of waiting until the end. Around mid March, I got too busy to pay much attention to it, and by mid April, I was drowning in game pieces, especially with my dad giving me his. Then my friend had given up, so she was giving me hers, plus three or four other people's who were sending her theirs. I finally dedicated a day to it to get everything opened, scanned, and sorted.
Game Board
I diligently scanned each QR code on each game piece to see if I needed any of the four pieces. About a month into the game, I won $5 cash and a $5 Safeway gift card. I'm not sure if that was worth the amount of time it took to scan all of those pieces. It was especially disheartening to scan a huge stack of pieces to have the app tell me each one was full of duplicates. I don't think I had a new piece in the last full month of the game, and that was when I scanned the bulk of them. No vacation home for us this year!
Tokens
So waiting until the last month to scan the game markers was a big mistake. Prizes were limited in number of redemptions and steadily became unavailable as the game went on. I had intended to redeem exclusively for the $25 Safeway gift card because it was the best value, but it turns out you can only redeem it once, which I did. Had I figured that out sooner, I could have redeemed for lower level prizes, but as it was, I ended up with over a 1,000 tokens without any way to redeem them since everyone else had taken the good prizes by the time I went to redeem.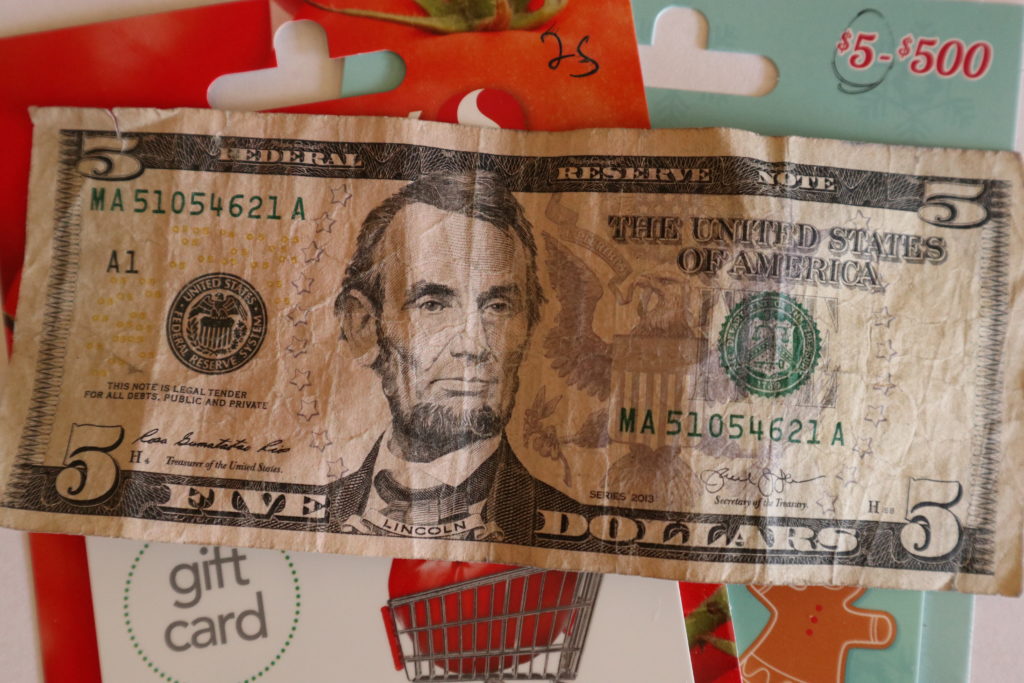 Free Products
One of the most lucrative aspects of the Monopoly game is the coupons for free products at Safeway. We received a lot of free bagel or donut coupons and redeemed them all just in time for Carter to bring donuts to school for his birthday. Half of them were free! My friend used her free product coupons to redeem for donations to a local food bank. I (again) waited too long to redeem most of our free product coupons and had a bunch left over after the May 28th expiration date. To reiterate: the key is to keep on top of this promotion throughout rather than waiting until the end.
just 4 U Account
Many times when I scanned a ticket, it would automatically load a free product to my just 4 U account. All I needed to do was use my card or number at checkout. However, I received so many (and I didn't write them down as I went) that I couldn't remember which products I had received. Supposedly, you could access this information under My List on the Safeway app, but I could never find them there, so next time I will be more diligent about keeping my own list.
Free Shutterfly Codes
Getting "free" products from Shutterfly is one thing I look forward to when Monopoly does come around. We got a lot of stuff last year, and this year was even better. However, a word of caution with Shutterfly. Don't expect it to be completely free. You will still have to pay shipping and handling, so keep that in mind as you place your order. Last year, I had Amex Offers on several cards, so I was able to cover a lot of the extra expense by using those. Unfortunately, I haven't seen any Amex Offers for Shutterfly this year. Luckily, the Shutterfly codes are good until June 30, so you still have some time left to redeem them, and maybe an Amex Offer will become available.
Two Types of Shutterfly Codes
There are two types of codes that came with this promotion: ones that are unlimited redemptions, and ones that are limited to one per billing address. See that catch there? I tried to use my codes from last year on multiple accounts, but Shutterfly is wise to my ways because they base it off of billing accounts for the credit card you use. I don't know about you, but I don't have a different billing address for any of my credit cards.
Unlimited Redemptions
There are a couple of the Shutterfly codes that don't have the one per account language on them. I love that the reusable bags are in the unlimited redemptions category. We have no less than 12 bags to redeem! We also have seven 16×20 Collage Posters. Not sure what we are going to do with all of those.
Limit of One Per Account
The rest of the codes have a limit of one per account. These include a Pencil Case, $25 or 50% Off, 20×30 Large Format Print, and 8×8 Hard Cover Photo Book. I am going to have my parents redeem some of these on their account since I can't order just one pencil case because I have two children!
Giveaway!*
I hate to waste the rest of the codes, so I am giving them away on my social media accounts. Just follow me on Facebook, Instagram, or Twitter, Direct Message me with which item you would like, and then I will send you the code. This is while supplies last, so if you want a Pencil Case, $25 or 50% Off, 20×30 Large Format Print, or 8×8 Hard Cover Photo Book, get your request in as soon as possible as it will be first come, first served!
Use By June 30
I hate expiration dates. I am a serial procrastinator, and I have an especially hard time getting things ordered on Shutterfly in a timely manner. Be sure to make your projects and place your order before June 30, 2019, or your code will expire.
Wrap Up
Here is the list of our haul:
$25 Safeway Gift Card
$5 Cash
$5 Safeway Gift Card
2 $5 Fandango Codes
15 Free Donuts
12 Reusable Shutterfly Bags
7 16×20 Shutterfly Collage Posters
Shutterfly Pencil Case
20×30 Shutterfly Large Format Print
8×8 Shutterfly Hard Cover Photo Book
Bonus Box Tops for Education
Not too bad. It was a lot of work, but seems worth it for all of this. Now, excuse me while I go design 12 reusable bags and seven posters on Shutterfly!
*This giveaway is in no way associated with or sponsored by Facebook, Instagram, Twitter, Monopoly, Shutterfly, or Safeway.
No purchase necessary.
Contact me on Facebook, Instagram, or Twitter to enter. You must be a follower on that channel to get a code.
You must be eligible to open or have an existing Shutterfly account.
Giveaway runs from June 1, 2019 until all codes have been claimed or June 30, 2019, whichever comes first.
Number of codes available—Pencil Case ($16.99): 4, Pet Bandana ($14.99): 1, $25 or 50% Off Codes ($25 or value varies): 7, 20×30 Large Format Print: 3, 8×8 Hard Cover Photo Book: 11. Odds of getting a prize code depend on the number of entrants. Limit of one code per person per channel.
Codes will be awarded through the social media account of the winner. Either a picture of the prize ticket or a code will be sent through direct message.
Winners will be notified immediately if they have won a prize. All codes will be given on a first come, first served basis.